Features
Overgrown homegrown: You can't even give it away
Published on May 27, 2022 by Don Plant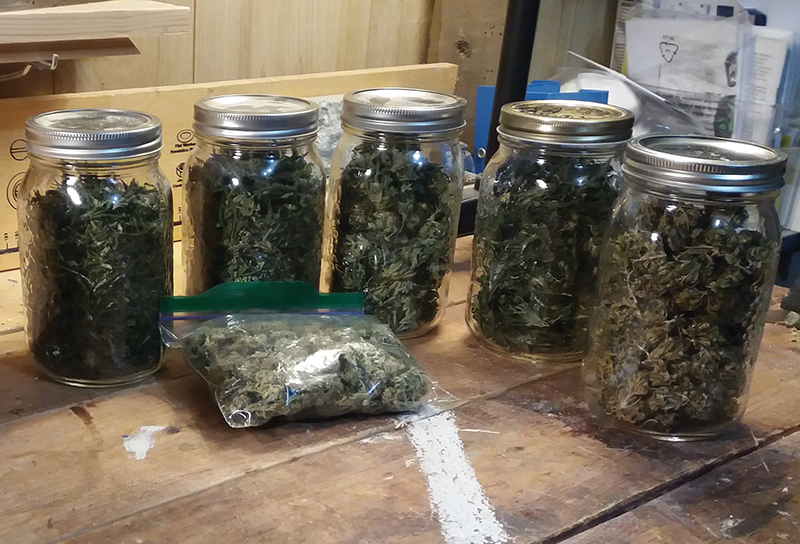 Every so often I get an offer that was unfathomable five years ago. Friends who grow their own weed have so much surplus, they want to share it for free.
The four-plant limit per household may sound puny but these guys have way more cannabis tucked away than they can give away.
One of them showed me eight mason jars filled with bud—all but one of them containing weed he grew in his garden last summer. He brought part of his stash to a ski-week gathering with friends from Nelson. 
"I show up with a mason jar of my pot. Another shows up with a bunch of cookies and bags of pot for each of us. The third guy shows up with his stuff," he laughs. "We're all friends trying to get rid of this shit. We couldn't give it away."
Another Kelowna friend has harvested more than four pounds of product from his garden since home-growing was legalized in 2018. Tom (not his real name) smokes, makes edibles and, coincidentally, hands out one-litre mason jars stuffed with quality weed to any friend who'll have it. He's barely dented the supply he stores in his large sealed containers. 
"They're always trying to drop it off or give me samples. I do think it's part of that older demographic that's been used to (growing) all these year." Sarah Ballantyne, Spiritleaf Vernon
Tom also gets free weed from others. When his old boss sold his Kelowna house last fall, he harvested everything he grew before moving to the Coast. 
"Before he left, he brought me a mason jar full of bud with the label on it of what it was. You go to someone's house, you used to bring a bottle of wine. Now you bring a jar of weed," Tom says.
I'm over 60 and stopped smoking cannabis years ago. But this apparent bounty of bhang got me thinking. If every Canadian household can grow up to four plants at a time, isn't there a glut of supply? How can cannabis retail stores survive when they compete not only with the black market and illegal shops, but hobby growers who consume less than they produce? 
Last year 11 per cent of Canadians who obtained dried weed in the previous month got it for free, according to the 2021 Canadian Cannabis survey of 10,000 respondents. Eight per cent grew their own or had it grown for them. 
Where Canadians get cannabis:
In the Okanagan, the proportion of home-growers is likely higher when you account for the prolific acreages of farmland, countless gardens, and longer growing season.
Sarah Ballantyne thinks so. As owner of a Spiritleaf store in Vernon, she knows many users are storing "a lot of" home-grown.
"They're always trying to drop it off or give me samples," she says. "I do think it's part of that older demographic that's been used to (growing) all these years. But the new generation of cannabis consumers are coming directly to the store . . . A lot of them live in apartments or they're renting so there's no way they're able to grow it."
For Okanagan retailers, making a profit remains a challenge.
Sixty legal cannabis outlets — four of them public B.C. stores — now operate from Armstrong to Osoyoos. With dozens more operating illegally, Ballantyne agrees the market is saturated.
Still, she doesn't view hobby growers as competition. Her staff cater to them by selling seeds and giving advice. They'd sell clones if they could but distribution problems make it impossible, she says.
Even so, Ballantyne cautions homegrown can be unsafe. One benefit of buying store-bought product is it's regulated by Health Canada, which irradiates a portion to kill bugs and bacteria, and to prevent moulding. There's no such protection for homegrown, she says.
  • RELATED: It's Kevin Shale's personal goal to resolve the stink of smoking indoors
"If there's even a touch of mould in that jar, the whole jar is done . . . If you ran some testing on some of these products I'm sure you'd find either mould or powdery mildew."
Customers tell Ballantyne about their bad experiences after they consume unregulated edibles baked at home.
THC levels tend to fluctuate when cooks infuse homegrown flower with butter, she says, while store-bought edibles are safer because the dosage is consistent. She's bullish about the higher quality of legal product she sells.
"Nowadays it's just so good that a lot of our customers wouldn't even waste their time doing a home grow," she says.
"Those are the customers we want in our store."
My friends likely won't be among them. One lives two blocks from a Kelowna retail outlet, which he's visited once while hunting for trimming scissors. The other last entered a cannabis shop in May to buy a couple joints and some edibles.
"For me it doesn't really matter whether they're in business or not because I'm always going to have mine," Tom says. "I've got way more than enough."
–
From the Spring 2022 edition of the oz., Vol, 2, Iss. 1.
---
About the author
Don Plant is a retired journalist who hosted a CBC radio show and was staff reporter at The Daily Courier in Kelowna, B.C.
---
© Copyright 2022 Okanagan Z. | About the oz.
Report a Typo or Inaccuracy
We strive to avoid typos and inaccuracies. However, on occasion we make mistakes. We value your contributions and help in correcting them.