Reviews
Pineapple Party by Pineapple Buds
Published on October 21, 2021 by David Wylie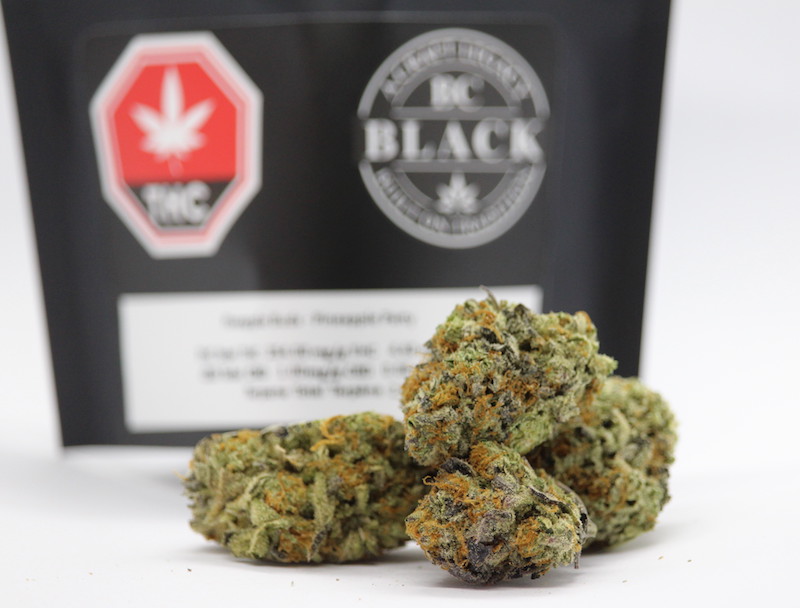 It truly is a Pineapple Party.
Grown in the Okanagan—this Indica from Pineapple Buds is some pretty good stuff.
It smells like pineapples—sweet and fruity. There are four relatively even-sized buds that are all nicely manicured. Some purple leaves stick out, giving it a nice tinge.
This is craft weed and you can tell. It has great moisture, dense with a little give when pressed. The buds are frosty.
It's nice to handle and grinds up fluffy. It rolls up nicely, too.
A new review every week
Sign up for our Friday newsletter
Put out under the BC Black label from Joint Venture Craft Cannabis, Pineapple Party is 25.4% THC and 2.51% Terpenes.
I paid nearly $50 for an eighth at a local cannabis retailer. You can get it cheaper if you shop around at stores that don't mark up their products as high.
It did come packed in a bag, and I would prefer glass to protect such nice flower.
Squeezed in the bag, the buds were starting to show some rectangular squishing. It was packaged Oct 5, 2021.
Overall, this is pretty weed and got me good and stoned.
Would buy again.
Pineapple Party from @BudsPineapple is legit 🍍🔥 pic.twitter.com/bD4IRRQPyn

— the oz. (@okanaganz) October 20, 2021
---
© Copyright 2021 Okanagan Z. | About the oz.
Report a Typo or Inaccuracy
We strive to avoid typos and inaccuracies. However, on occasion we make mistakes. We value your contributions and help in correcting them.