We cover the growing cannabis industry
We can't sell you weed, but we do deliver buzz.
Alongside legalization on Oct. 17, 2018, we launched the oz. as an email newsletter out of British Columbia's Okanagan Valley. We've since published seven print magazines!
By The Numbers
About 4,000 copies of the latest issue in circulation
Magazines in 500+ cannabis retail stores
Distributed in 7 provinces
Hired 20 contributing writers
Almost 1,000 posts
Sent 400+ email newsletters
Worked with 30+ advertisers
Connect with the oz.
Our Instagram handle is @theounce.ca. On Twitter, we are @theouncemag.
Our email newsletter comes out every Friday. Check out recent editions here.
Find our By The Ounce podcast here.
Meet the Founder
David Wylie | Publisher
Hi! I'm a B.C.-based journalist and founder of the oz. I've been working in newspapers in some capacity or another for about 20 years. I love print, which is part of the reason why I publish a magazine about cannabis.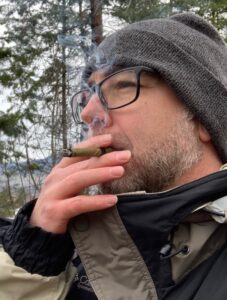 I'm an active freelance writer. I have been published in the biggest newspapers in Canada, including the National Post, Montreal Gazette, Calgary Herald and The Province. Over the course of my media career I've been a publisher, managing editor, news director, editor, reporter, designer, and photographer. I've covered news in Toronto, Ottawa, Kelowna—and everywhere in between. I've specialized in technology, video games, wineries, weed, energy, climate, courts, crime, and more.
I also know my way around the corporate communications world through years of experience as an advisor, spokesman, and strategist. I work as a freelance copywriter and sponsored content creator.
Our writers and photographers
Our thanks to the many writers who have appeared on the oz., including:
Jenny Neufeld
Simon Gerard
David Brown
Corinne Doan
Darcy Nybo
Mason Klein
David Trifunov
Don Plant
Roohi Sahajpal
Manos Vezyrakis
Shylo Thompson
Lauren Edwards
David Fernandes
Jaimie Miller-Haywood
Katerina Bakalos
Thank you to our advertisers
(Past and present, they include)
Spiritleaf
Pistol and Paris
MTL Cannabis
NitroTin
Smoker Farms
Tok
Okanagan Cannabis Tours
Lake Country Cannabis
Greenery Cannabis Boutique
Bluewater Cannabis
The Higher Path
My Buddy's
Glenmore Cannabis Store
Vitalis
The Valens Company
LYF Edibles
Okanagan College