Features
Meet the world's first A.I. "budtender"
Published on June 23, 2023 by David Wylie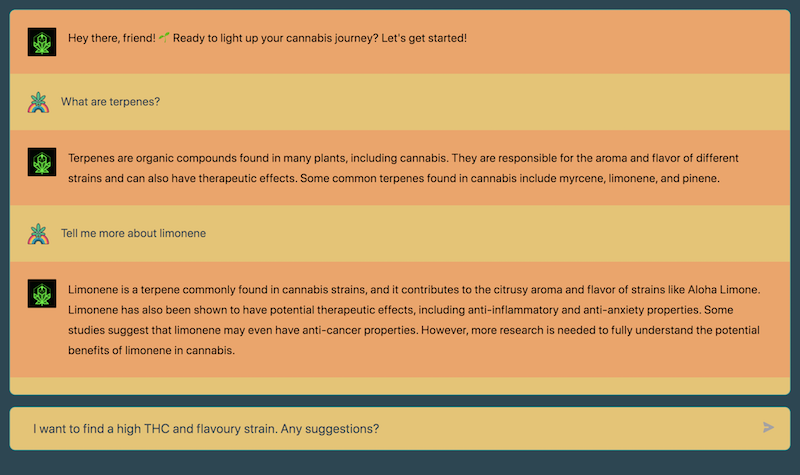 A Canadian refugee is part of a small team working to develop what they say is the world's first artificial intelligence-powered "budtender."
Muratcan Koylan, who recently came to Canada from Turkey, says the start-up is developing a suite of A.I. tools for small cannabis brands and growers.
But their focus currently is on teaching and refining their A.I. chat, BudBuddy AI.
Koylan recognized the chance to be one of the first in the space and went for it. "If we act fast and we step up quickly then we'll be one of the well-known brands in the world in this ecosystem," says Koylan in an interview with the oz.
A.I. tools are already at play in the fast-growing global cannabis industry—but operating in the background. For a few years now, systems using A.I. have been developed to help growers through smart automation for things like lighting, temperature, and plant nutrients.
This year, though, personable generative A.I. came into the zeitgeist, as OpenAI made ChatGPT free for the general public to use.
Koylan, who's in his 20s, says he saw the need for a cannabis-friendly A.I. chat.
"I always wanted to build a small start-up," says Koylan, who has a degree in Communication Design from Özyeğin University in Istanbul.
A.I. breaks language barrier for refugee
Cannabis is illegal in Turkey, so getting high was always on the downlow with minimal information about the weed he was smoking. After moving to Toronto, Koylan began looking into strains and terpenes.
A heavy accent and language barrier made it difficult to interact with budtenders.
Koylan thought an A.I. budtender could help fill in knowledge gaps in an approachable way.
Real life budtenders tend to view it as competition, but Koylan says that's not their intention. They want to be another helpful tool.
Lots of feedback to BudBuddy
Koylan and several international friends—all recent graduates—started a Discord group to discuss the many challenges in the cannabis industry and how they might contribute solutions. That ultimately inspired the creation of BudBuddy.
Currently in beta, it doesn't give any product-specific information or recommendations; rather, it provides more general info. They've been seeking feedback and regularly updating it as they get responses by email, through social media, and at industry events.
Koylan says BudBuddy is just the beginning. They plan to create a whole digital ecosystem for young people, including games and experiences.
They're also developing an A.I. toolbox for small brands and growers, looking to pursue AR and VR to create personalization.
They're now seeking opportunities for brand partnerships in different locations and angel investor funding.
---
© Copyright 2023 Okanagan Z. | About the oz.
Report a Typo or Inaccuracy
We strive to avoid typos and inaccuracies. However, on occasion we make mistakes. We value your contributions and help in correcting them.