Features
Q&A with Spiritleaf CEO Darren Bondar
Published on October 29, 2020 by David Wylie
Spiritleaf is one of the biggest retailers in Canada.
The Inner Spirit Holdings chain made headlines early on in legalization with its partnership with The Tragically Hip's licensed producer, Up Cannabis. They have grown to be a leader in Ontario, as well as the Western Canadian market.
Here's our interview with the company's founder, director and CEO, Darren Bondar.
the oz. –  Cannabis transactions are on the up and up; can you give us a picture of who the new cannabis users are and what's drawing them in?
Bondar – They come across a broad spectrum of demographics. What we've noticed is most new users don't necessarily like to smoke. Bringing on 2.0 products like beverages and edibles has really helped transform people's outlook on cannabis, and is something that's more palatable for otherwise more health conscious consumer to try. Older users are definitely looking more to edibles and beverages.
the oz. – Consumers in Ontario are spending more at each purchase than those in BC and Alberta… Are some of those differences caused by the pricing differences between provinces?
Bondar – It's not pricing as much as it's basket size. There's less availability of stores in Ontario, so people tend to stock up a little bit because it's not as convenient to get to the store. I don't think it's necessarily related to the MSRP of cannabis. But I guess we'll find out as Ontario opens another 200 stores whether the average basket size comes down or not.
the oz. – Is the 20% vape tax fair? What would you like to see happen with that tax?
Bondar – I think the objective is to eliminate the illicit market and when you add a 20% tax on to something like vapes that makes it hard to be price competitive in that category with the illicit market. Having said that, I think government has to find a balance between paying for health and encouraging combustion. That's a delicate situation that I'm glad I'm not the decision maker on.
the oz. – A little bit on your background—you founded Watch It! years ago. What are some of the lessons you learned from that company?
Bondar – With 20 years of retail experience in ultimately very similar business, which is small-format retail, you learn a lot about retail and franchising, you learn how to properly select locations and open stores, how to work with franchise partners. It's not just me. What's incredible about this story is that me and many of my employees, we've been working together for 10-plus years. We came out of the gate pretty educated and experienced and that was a really great advantage for us.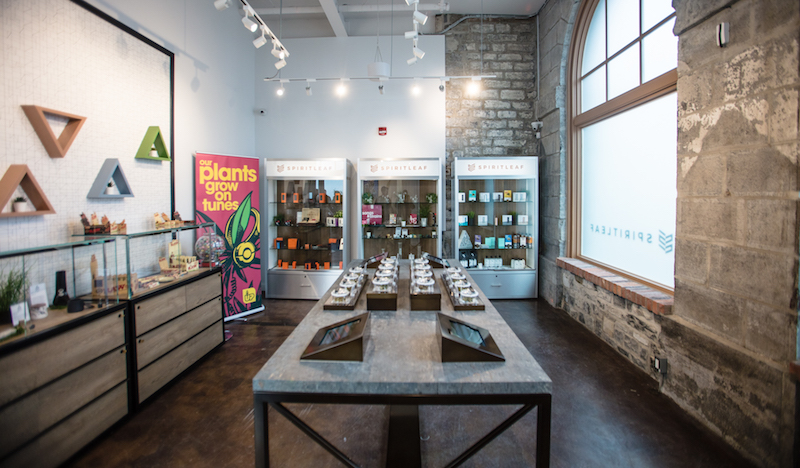 the oz. – Are there some challenges, even with all that retail experience, going into the cannabis market that surprised you?
Bondar – The biggest thing—I don't know if it necessarily surprised me, it was expected—but the three different levels of government regulation make it very inefficient to be able to open stores. In a typical retail environment you sign a lease, you have 90 days to build, and you open your doors. That's just very difficult to achieve in Canada with the amount of time it takes to get through the various provincial and municipal requirements to get open.
the oz. – What issues are most important to address in BC?
Bondar – The BC government has to be more efficient in issuing licences and allowing retail to get store open if they're really truly committed to getting rid of the illicit market. The length of time is not reasonable for people to be sitting leases and waiting to get through to licences with very little communication. The biggest challenge in BC is it's the biggest illicit market in Canada and probably has been for decades. It's really just trying to convert the illicit market to the legal market and getting consumers to buy into the benefit of buying legal cannabis. And consumers need access; there's still a lot of municipalities in BC that have not legalized cannabis so there just fuelling an illicit trade.
the oz. – What more can we be doing to draw people from the illicit market to the legal market?
Bondar – I think we're doing a great job. We're now over 50%, which is according to Stats Canada. By being able to provide affordable cannabis, and a good selection and a good retail experience, I believe that most Canadians are lawful and want to buy a legal safe product. We just need to continue to get that message (out), and law enforcement needs to continue to stamp out the illicit market—and I think that we need to convert as many of those original pioneer illegal growers, and see if they'll come over.
the oz. – Are there any challenges that are specific to the Okanagan?
Bondar – We've been very fortunate in the Okanagan and very welcomed by the local communities. I personally love the Okanagan. We've been fortunate enough to get four great stores there with local owners.
the oz. – What is Spiritleaf doing differently?
Bondar – Right from the outset, we were very focused on our guest experience, we were very focused on our brand, and we were focused on our business model, which was local entrepreneurs providing that personalized service and working and investing back in their communities. Those three elements have not changed since we've started.
the oz. – With cannabis becoming more normalized across Canada, are there things the country should be doing to bring it more in line with alcohol—particularly with advertising?
Bondar – We're still in a nascent industry. I do believe that a lot of the restrictions that we are facing are going to ease. We are starting to see a little bit of red tape reduction, like we just saw in Alberta where they've eliminated the licensing cap on and individual entity. We still want to protect youth and kids and not advertise to that young demographic. But I believe over time some of these restriction will lift and the fear is eradicating.
---
© Copyright 2020 Okanagan Z. | About the oz.
Report a Typo or Inaccuracy
We strive to avoid typos and inaccuracies. However, on occasion we make mistakes. We value your contributions and help in correcting them.