News
Indigenous Bloom opens near Kelowna
Published on January 7, 2019 by David Wylie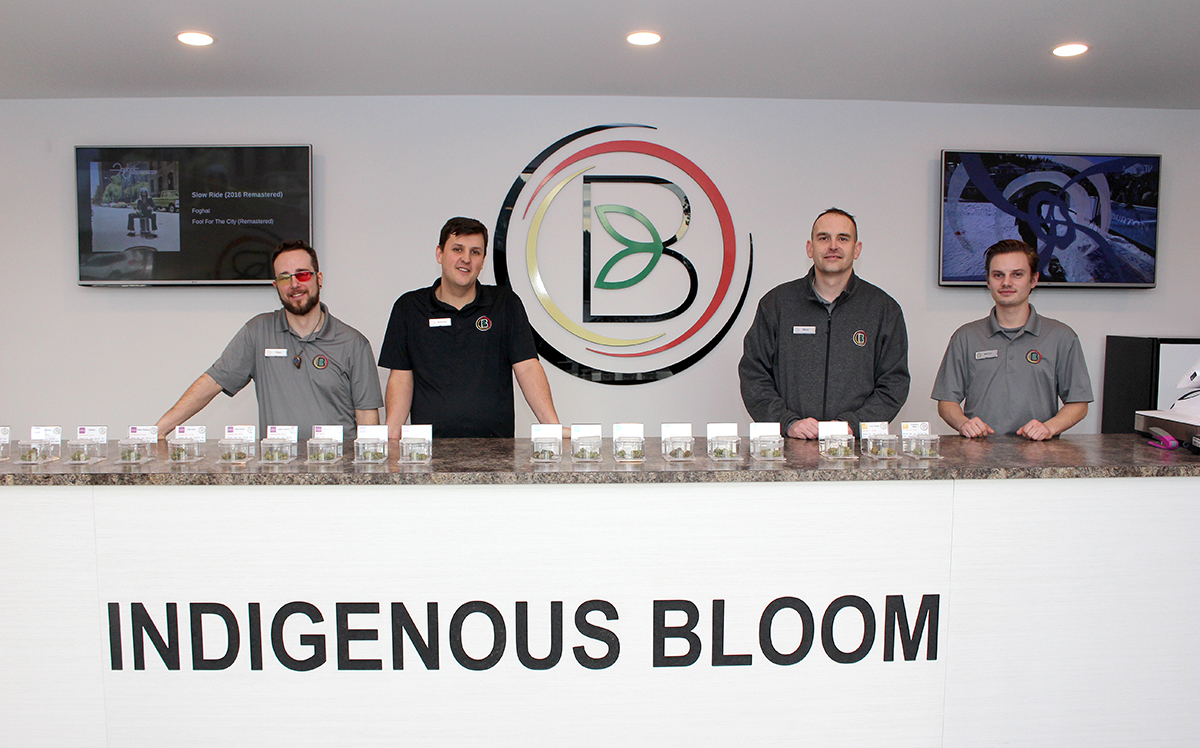 If you're looking to buy cannabis in the Okanagan, you now have a new option.
Indigenous Bloom opened its doors Friday (Jan. 11) just outside of Lake Country on Okanagan Indian Band land off Commonwealth Road. It's located near the big sailboat between Kelowna and Lake Country.
The store is open seven days a week from 7 a.m. to 9 p.m.
"I thought it was a very nice store, the people working there were very friendly and the one guy I talked to was very knowledgeable," said Nick, who was the first customer in the store.
"They had quite a bit of selection and sample containers you could view and smell the product through. All in all, a good experience and I will be going back again!"
The bud, which is provided by indigenous suppliers, is displayed in sniff containers, like those found in the BC Cannabis Store.
   Related: Fighting for their place in the cannabis industry
Grams are $10, $12 – and one that's $14. There's a bit of a discount on larger amounts.Varieties include Maui Wowie, Black Mamba, High Octane, Animal Cookies, and God Bud.
Another Indigenous Bloom location has been operating in the North Okanagan on Westside Road near Vernon on Okanagan Indian Band land.
A third Indigenous Bloom location has been operating near Chilliwack on the Kwaw-Kwaw-Apilt First Nation reserve since Oct. 17.
The Fraser Valley band has created its own cannabis law rather than operating under the federal Cannabis Act.
"First Nations reserve lands are not under provincial jurisdiction," said Darwin Douglas, a Cheam councillor advising the Kwaw-Kwaw-Apilt, told the Vancouver Sun. "First Nations are writing their own cannabis laws and standards that meet or exceed federal and provincial standards."
None of the stores are operating with a provincial retail licence.
You can also buy cannabis from the BC Cannabis Store – or your provincial store – and through retail locations like the government store in Kamloops and upcoming Starbuds at Turtle Bay Crossing in Lake Country between Kelowna and Vernon.
No stores are open yet in Kelowna, Vernon or Penticton.
We ran into our good friend Gary from The Cannabis Potcast at the store opening. His podcast has quickly become a must-to listen.
---
© Copyright 2019 Okanagan Z. | About the oz.
Report a Typo or Inaccuracy
We strive to avoid typos and inaccuracies. However, on occasion we make mistakes. We value your contributions and help in correcting them.