Features
B.C. LPs growing in the great outdoors
Published on May 14, 2020 by Simon Gerard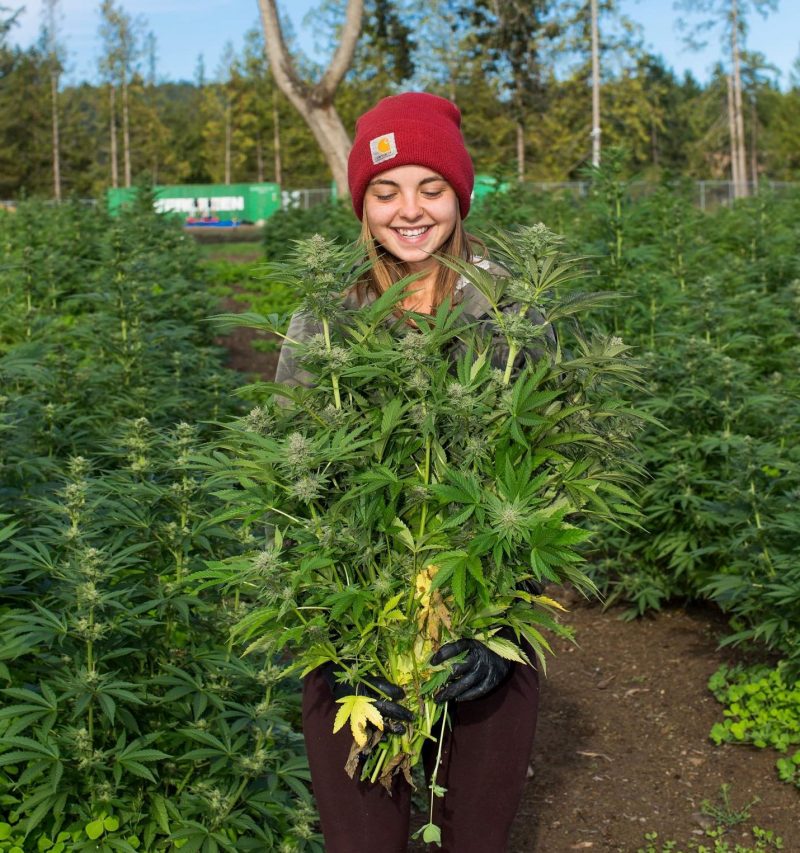 With the outdoors more a dream than reality through our quarantined spring, venturing outside (responsibly) is starting to take shape in time for summer. An increasing number of LPs are playing outside this summer. Last year saw a few producers start growing outdoors, mainly back east, including big names such as WeedMD and 48North's Good:Farm. With my home province of B.C. having the best cannabis and summers in Canada, let's take a look at several notable B.C. producers' plans to soak up the sun.
First to legally grow outdoors: Good Buds – Salt Spring Island
Family-run craft cannabis company Good Buds notably claimed the first outdoor cultivation licence last May, somehow beating out the big corporate brands. Based on beautiful Salt Spring Island, they take advantage of the sun and sea-side air to grow small-batch, organic cannabis in soil native to the island. Along with greenhouse space, their outdoor production covers 12 acres. Thanks to their location's isolation and farm community, they face a far lower chance of contamination, compared to land-locked outdoor LPs. Founded by Alex and Tyler Rumi, Alex told Inside The Jar, "We're lucky on Salt Spring Island that everyone around us is organic farming as well." Tragically, Good Buds is available in Alberta and Saskatchewan, but not yet B.C.
Aurora Valley: Westwold – Kamloops
The Thompson-Okanagan Valley is naturally perfect for growing outdoors and has a list of LPs set to use it. Aurora launched its "Aurora Valley" facility in Westwold, east of Kamloops. With 207 acres of outdoor grow space, Aurora chief corporate officer Cam Battley told NL News, "I think it's one of the largest, if not the largest, licensed areas for cannabis production – not just in Canada but in the world." Cannabis grown here is shipped to the Aurora Sky facility in Edmonton to be extracted. Aurora Valley also operates as a cultivation research centre.
SpeakEasy Growers – South Okanagan Valley
SpeakEasy Growers is the only LP found in the South Okanagan Valley's "Golden Mile," which is famous for its wine-producing grape vineyards. Its 290-acre facility currently has 60 acres of this coveted soil dedicated to outdoor growing. The company also announced a partnership with neighbouring M&J Orchards to operate a 50-acre hemp field to produce CBD concentrate. 
Christina Lake Cannabis – West Kootenays
A smaller LP in the B.C. Interior is Christina Lake Cannabis, located in Christina Lake in the West Kootenays. They are set to produce cannabis for oil on 21 acres of their 32-acre property this summer, with plans to develop a 99-acre expansion. Last month they also announced a partnership with SpeakEasy Growers.
BevCanna – Osoyoos
Last year, BevCanna Enterprises partnered with Clearwater Canngrow to grow organic outdoor cannabis on 130 acres near Osoyoos. This jumped up to 292 acres of outdoor cultivation space, which will beat out Aurora and possibly become the largest cannabis production space in Canada and internationally. Vancouver-based BevCanna develops and manufactures cannabis-infused beverages and products for their own brands, as well as white label products for clients. Using BevCanna's land, Clearwater Canngrow will start growing cannabis this summer.
Emerald Health Therapeutics – Metro Vancouver
There are many large indoor LPs growing around the Metro Vancouver area. Emerald Health is the first with an outdoor footprint, using 12 acres of its 20-acre organic facility just south of Vancouver in Richmond.
CannTrust – Metro Vancouver
CannTrust announced the purchase of 81 acres of outdoor grow space in Vancouver last year. The rest of the year their announcements were a little less positive, such as their licence being suspended and being deleted from the TSX due to growing thousands of kilos of unlicensed cannabis behind temporary walls. So don't expect any extracts from them anytime soon.
The great outdoors
Outdoor growing continues to expand nationwide. Last year saw 17 outdoor licences approved and 33 so far this year. 135 outdoor cultivation applications are currently pending, with 41 being micro-cultivators. While the outdoors puts up many challenges, the cost-savings, sustainability, and mass production potential for extracts and distillation continue to entice. This follows legally growing outdoors not being allowed until last year, causing many LPs to diversify from expensive, energy-hogging indoor operations. Hopefully, there will come a time where we can tour outdoor LPs like with wineries (pending the pandemic, of course). 
---
© Copyright 2020 Okanagan Z. | About the oz.
Report a Typo or Inaccuracy
We strive to avoid typos and inaccuracies. However, on occasion we make mistakes. We value your contributions and help in correcting them.