Features
Buying weed in the US is different from Canada
Published on January 6, 2023 by Bradie Sparrow
Armed guards, constant carding, and a hefty price all part of the experience of shopping for weed in the States, writes Bradie Sparrow.
"Again?" I asked as I pulled out my driver's licence for the third, maybe fourth, time since arriving in the US.
"Sorry ma'am," the budtender answered sheepishly. 
Shopping at the Cookies cannabis store in Las Vegas, Nev., was a completely different experience compared to retail cannabis stores in Canada. 
Back home, there is never an armed security guard waiting at the door… but there is at the Cookies store in Vegas. And guess what? She wants to see identification. Once you've proven your age, you're ushered into a waiting room that almost feels like sitting at a medical clinic, except here they keep you entertained with cannabis menus on an iPad—but only after you've shown your ID, again.
A few people were ahead of us. After a 10-minute wait we made it inside the well-known Cookies store. Branding is very prominent, with all kinds of Cookies-branded clothing and accessories available for purchase. Sight and smell jars were available for many different flowers. We really took our time looking at the buds and enjoying the the smells. 
We had already decided on a few products while in the waiting room:  an eighth of Apples and Bananas flower and Dogwalkers pre-rolls. We examined the flower in its jar to ensure it was a good choice and walked to the cashier. He seemed embarrassed to ask for our ID again, but we quickly changed the topic to the difference in money between our two countries. 
The little dog walker joints were delightful. The flower, not memorable.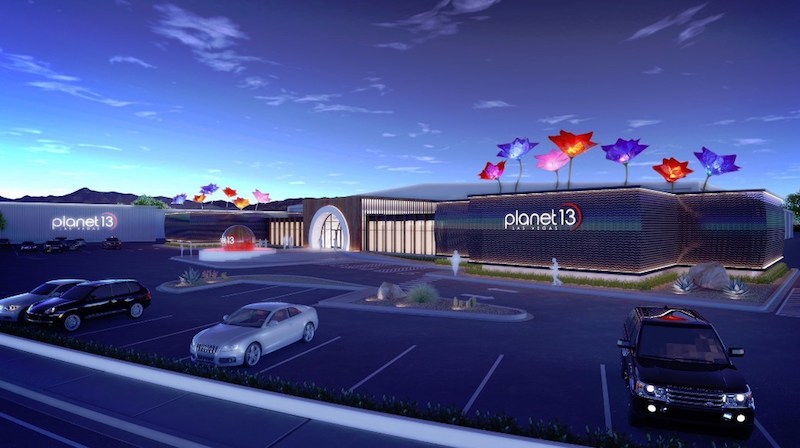 On our second night in Vegas, we hopped in a taxi and asked for the weed store; we landed at Planet 13.
Everywhere we went in Vegas, there were advertisements for Planet 13, described as the world's largest cannabis store at 112,000 square feet. Inside this 24/7 recreational complex you'll find a Mexican/American restaurant, a robot show, a chapel (come on, it's Vegas!), and a customer-facing production facility. 
Security waited for us at the door and asked for identification. We were required to check in on an iPad. The store collects contact info so customers can be assigned to one of over 60 numbered checkouts. After five minutes we were assigned to checkout No. 30. 
  RELATED: More articles by Bradie Sparrow
The store is absolutely huge, with case after case of glass-covered flower, edibles, beverages oils, and so on. Every flower was on display, and we strolled about carefully examining the products before making a decision on a beautiful grape flower and more dogwalker pre-rolls. 
We took so long shopping that our checkout had expired, so we had to register again. We were paired with a checkout attendant who called me "baby" 20 times, yet somehow it wasn't weird and she became a highlight of the whole trip. 
The prices nearly killed us, especially after factoring in the exchange rate. We paid nearly three times what we normally pay here. 
I'm surprised to be saying this, but I think Canadian cannabis retail is doing a better job than the US. It's true we have our challenges, but at least we don't have someone with a gun at the door of every location.
About the author
Bradie Sparrow is the national sales manager for Pistol and Paris. Connect with Bradie on Instagram @dopest.mama.ever.
---
© Copyright 2023 Okanagan Z. | About the oz.
Report a Typo or Inaccuracy
We strive to avoid typos and inaccuracies. However, on occasion we make mistakes. We value your contributions and help in correcting them.