Features
Making a name: Dunn Cannabis grows into a national brand
Published on December 16, 2022 by David Wylie
Logan Dunn is looking forward to having you visit. He's founder and CEO of Dunn Cannabis. The flagship micro-cultivation facility is located next to his home in Abbotsford, BC.
Licensed in 2020, the micro is bigger on the inside than it looks from the outside.
The affable founder and grower is excited when he speaks about hosting cannabis events, envisioning food trucks and live music as he surveys his property during an interview at the facility. Dunn has been planning for farmgate since the initial build—even including a room with a long window that a group of visitors could look through without having to don the required PPE to enter the cultivation facility.
"This is a way for us to allow people walking in to see it," he says.
  RELATED: Q&A with Dunn Cannabis founder and CEO Logan Dunn
"I was anticipating farmgate would happen at some point, so let's get ahead of it. And not just that, it's nice to walk by a room and see it without having to go in."
While the room is currently being used as an area for propagation, it may eventually be turned into a flowering room so people can see bud.
Dunn sits comfortably in the reception area. Behind him is a TV screen with a live view of plants growing in an Edmonton facility, dubbed Karma, part of Dunn's unique partnership with BZAM cannabis.
Dunn also has relationships with a cultivation facility in Maple Ridge where they grow two of their well-known strains, BC Valley Gas and Karma.
They have also been on-boarding other micros to grow for them to help meet the increasing demand across Canada for their cannabis.
There are now more than 100 employees at Dunn (including their partners).
The BC company has so far seen strong support in Ontario, and they have several products in the province, including Pink Velvet #44, BC Valley Gas, and BC Secret Mintz.
"We're lucky we had excitement out of the gate," he says.
Dunn says the cannabis industry is a relational one. A good example is how Dunn's key partnership with large cannabis company BZAM took root. Dunn says he connected with someone from BZAM through a regular Zoom call and podcast. They built a relationship and that started discussions on finding ways to work together, which has since come to fruition through some unique offerings, including a collab called 'BZAM x Dunn.'
"We've got cultivars that are different from everybody else's. We have strains that no one brings to market. We want to resonate with the guys that are experienced and let them know that black market-quality products are available in the recreational space." — Logan Dunn
While Dunn says he loves growing cannabis, he got sidetracked with branding, logistics, compliance, and a whole slew of other industry concerns. Putting intense effort into the development of the brand can burn you out, he adds.
BZAM has a large and experienced sales force that can reach stores in every province and create excitement. They also have the ability to help with other parts of the industry that can prove challenging for smaller cannabis companies, such as payment times and waiting on funds from provinces.
Meanwhile, Dunn helps BZAM with legacy learnings and growing techniques.
Dunn knows first hand the challenges micros face, including limited cash flow and lack of staff to take care of things like the logistics around working with provinces and getting SKUs in order.
"They have a team of marketing people who follow through and really give the support to the retailers that we have a hard time doing as a micro because we can't afford those tools," says Dunn. "We execute and excel in growing, so let's focus on that and let's help our partners be better."
He says it's a winning business model.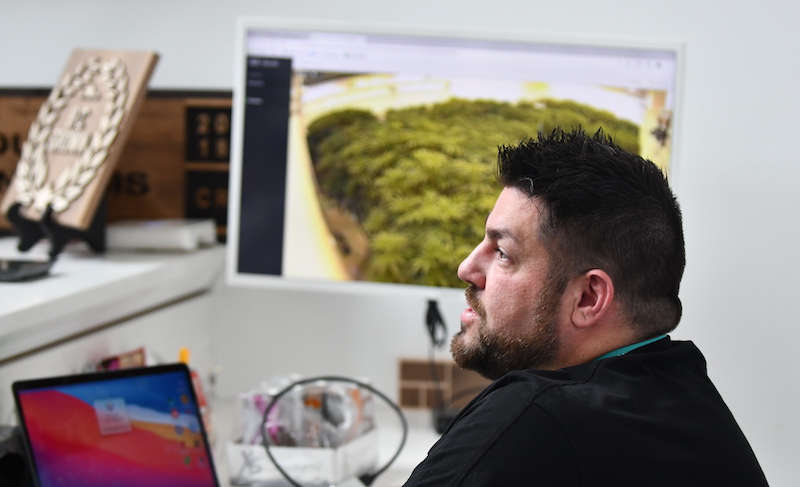 Dunn says they needed to go back to their roots and want to partner with others who are focused on growing great bud.
"There's better producers coming onto the market every day. We have to be that premium producer, so we've really had to take a step back," he says.
In the current high-stakes world of cannabis, Dunn's relationship with BZAM is an outlier. Not even longtime friendships with fellow growers are immune to a bit of friendly competition.
Dunn says get-togethers with competitors can get a little quiet.
"You don't want to tell them everything you're doing anymore because it's competition," he says. "I want to keep my secrets to myself."
Still, Dunn is building bridges. He wants to help other growers thrive alongside by providing tools and flexible arrangements for those interested in joining the fold.
"We're open to combo with a lot of small craft guys that are being back-burnered right now," he says.
Dunn has officially partnered with two micros, both located in the Kootenays. Having them grow under the Dunn brand increases output by a significant amount.
"They're all growing the Dunn genetics," he says. "It'll all come to our facility and then we work with our partners at BZAM to do the packaging. Instead of just packing up 30 kilos, they might be packing up 100 and we can hit other provinces and have that demand-planning in place for it."
"We're trying to expand our footprint."
Dunn says he's had to adopt bigger-picture thinking when it comes to things like sharing genetics with other locations and partners.
"It means the brand is growing and we're growing. It couldn't be done without finding the right partner."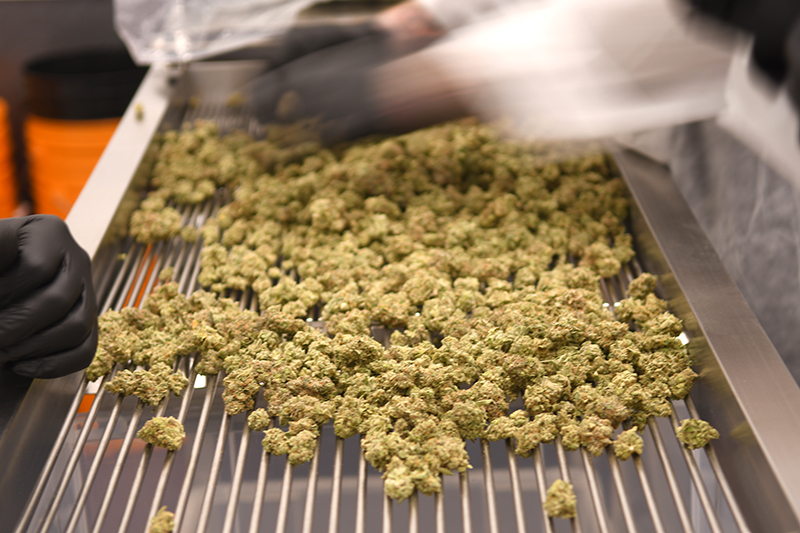 Dunn has also leaned into automation to help them significantly increase yields.
"This is hands down the future and it's going to cost a bunch of money to do it but it's absolutely worth it in every way," he says. "We totally retrofitted this place to be smart, energy efficient, and Earth friendly. When we're sleeping at night, these things are working for us."
However, clever practices don't always include cutting-edge technology; sometimes it's about working smarter. For example, Dunn demonstrates how they sort flower once it's ready for packaging. Dunn, alongside his brother Reece Dowdy, uses a piece of equipment the size of a long kitchen table that works by fitting different sized buds through differently spaced bars. The buds drop into bins, sorting them for pre-roll, top-offs for jars, and the biggest, most beautiful nugs.
Over the course of a day, this system can be used to grade
25 kilos. "We can also see if there's imperfections," says Dunn, as he trims a small yellow leaf off a large bud.
The room is filled with the sweet scent of Frosted Fruitcake.
"This is a really cool strain. No one has this. Consumers nowadays, they're so picky. You have to make sure you do the best you can with the products."
Moving into the future, Dunn is looking beyond flower by tapping into BZAM's resources. They're planning their first extract offering, a Live Rosin vape.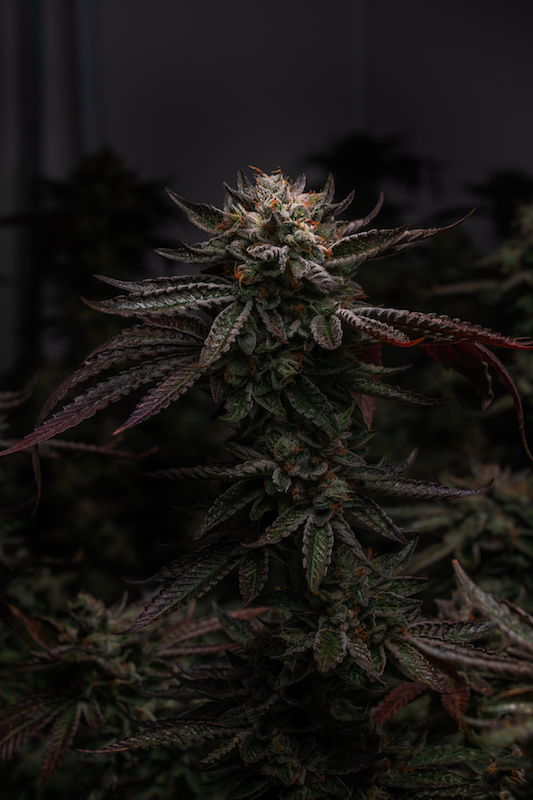 ---
© Copyright 2022 Okanagan Z. | About the oz.
Report a Typo or Inaccuracy
We strive to avoid typos and inaccuracies. However, on occasion we make mistakes. We value your contributions and help in correcting them.