Features
Manitoba homegrown cannabis ban could be lifted after election
Published on September 22, 2023 by Pat Bulmer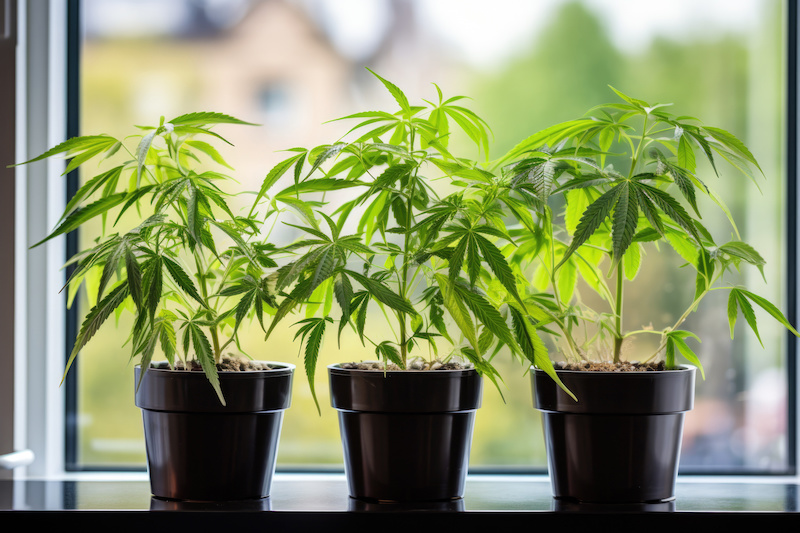 A ban on growing cannabis at home will be lifted if Manitobans vote for a change in government on Oct. 3.
The opposition NDP and third-place Liberals both promise to lift the ban that was put in place by the governing Progressive Conservatives in 2017 ahead of legalization.
"Manitoba Liberals are committed to overturning the provincial ban on growing up to four plants at home," a party spokesperson wrote in an email to the oz.
And, an NDP official told the oz., "the Manitoba NDP opposes the current ban on homegrown cannabis."
No response from the Progressive Conservatives
The PCs acknowledged receiving questions and a request for comment from the oz., but did not provide a response.
The Conservative government announced in the summer of 2018 the ban on growing cannabis at home as it outlined regulations that would accompany legalization.
"Our government will prohibit growing cannabis at home for recreational purposes. This approach is consistent with our commitment to protect youth and also responds directly to the concerns that homegrown cannabis may be diverted to the black market," said Heather Stefanson, who was then justice minister and is now the premier.
Stefanson told a news conference the homegrown ban was supported by the Canadian Association of Chiefs of Police, MADD Canada, and the Manitoba Real Estate Association.
The ban is now being challenged in court.

Final arguments were made Sept. 8 in a case launched by TobaGrown's Jesse Lavoie. TobaGrown describes itself as a not-for-profit cannabis producer.
The federal government allows people to grow up to four plants at home, but Manitoba and Quebec opted for total bans.
The Quebec ban has been upheld in court, but Lavoie argues there are key differences between the two bans. Fines in Quebec range from $250 to $750. In Manitoba, the penalty is a firm $2,542.
"This law was unconstitutional when it was drafted, and it is unconstitutional now given the significant differences between the law as written in Quebec and the law as written in Manitoba," said Jack Lloyd, one of Lavoie's lawyers, in a news release. "It is clear the Murray-Hall (Quebec) decision does not bind the Manitoba courts given the significant differences between the two laws."
A decision is expected in a few months.
Homegrown OK in other provinces
Most provinces follow the federal standard, allowing people to grow cannabis at home.
B.C., for example, says people 19 and over can grow cannabis for recreational purposes.
"These plants cannot be grown in a space that is visible from a public place," the province says on its website. "For example, you can grow plants on your balcony, or in your yard, as long as they're not visible from a public place. Growing cannabis at home is banned in homes used as licensed child care.
"Landlords and strata corporations can further restrict or prohibit growing non-medical cannabis on their properties. Local and Indigenous government can also further restrict growing non-medical cannabis at home under existing powers to establish bylaws," the province says.
An election is unlikely to change Manitoba's distribution model for cannabis. The Liquor and Gaming Authority regulates cannabis sales. The Manitoba Liquor and Lotteries Corporation supplies the cannabis to privately run stores that sell it.
"We are in support of the current distribution model," said the NDP email.
Liberals take a hard line on illicit Manitoba cannabis
The Liberals, however, say they will clamp down on illegal cannabis sales.
"We will strengthen the legislative authority of the Liquor, Gaming, and Cannabis Authority of Manitoba to ensure they are inspecting and prosecuting illicit sales of cannabis to protect the legal market. The PC Government has made no effort whatsoever to enforce or inspect storefronts and online vendors engages in illicit cannabis sale," the Liberals said.
The Liberal platform adds: "Legal Manitoba-based cannabis stores have struggled to compete because there has been no enforcement against illicit sales, either online or with brick-and-mortar stores. While illicit tobacco sales are being investigated and prosecuted by the province, cannabis sales are not."
Manitobans go to the polls on Oct. 3. When the election campaign began, the PCs had 35 seats in the 57-seat legislature, the NDP, under leader Wab Kinew, had 18, and the Liberals, led by Dougald Lamont, three. One seat was vacant.
---
© Copyright 2023 Okanagan Z. | About the oz.
Report a Typo or Inaccuracy
We strive to avoid typos and inaccuracies. However, on occasion we make mistakes. We value your contributions and help in correcting them.