Reviews
Gummies by General Admission
Published on October 6, 2023 by David Wylie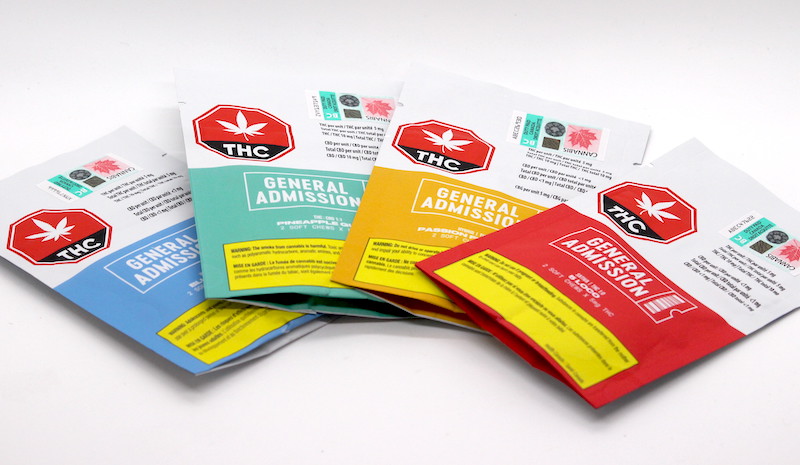 Shaped like movie ticket stubs, General Admission's variety of gummies are a fun novelty.
The sour flavours are appealing and the price is affordable.
They do smell a little odd, but their flavour is decent and the effect is worthwhile. They have two gummies per package and we found them perfect for sharing.
Here's our rundown on the four flavours we picked up.
Passionfruit Mango was the least favourite of the flavours. It's a 1:1 ratio of THC and CBG, with 10 mg THC and 10mg CBG total between the two gummies. They are yellow and grey in colour with eight grams of sugar.
Pineapple Guava is the sweetest of the bunch, and a smidge better tasting than the Passionfruit Mango. The yellow and teal gummies have a tropical fruit flavour. This is a 1:1, with 10mg THC and 10mg CBD.
Blue Rocket is one of our two favourites. The two-tone blue colour has a distinctive blue raspberry flavour. This offering only has THC, with a total of 10mg.
5 Loco flavour is red and green in colour. It tastes a bit like fruit leather. The cherry-lime flavour has 10 mg THC total. It was our favourite flavour.
Overall, these gummies are a satisfying chew. They aren't the best tasting gummies on the market, but they are well-priced at about $5 and have a nice effect.
---
© Copyright 2023 Okanagan Z. | About the oz.
Report a Typo or Inaccuracy
We strive to avoid typos and inaccuracies. However, on occasion we make mistakes. We value your contributions and help in correcting them.