Reviews
Platinum Oranges by Organnicraft
Published on November 10, 2023 by David Wylie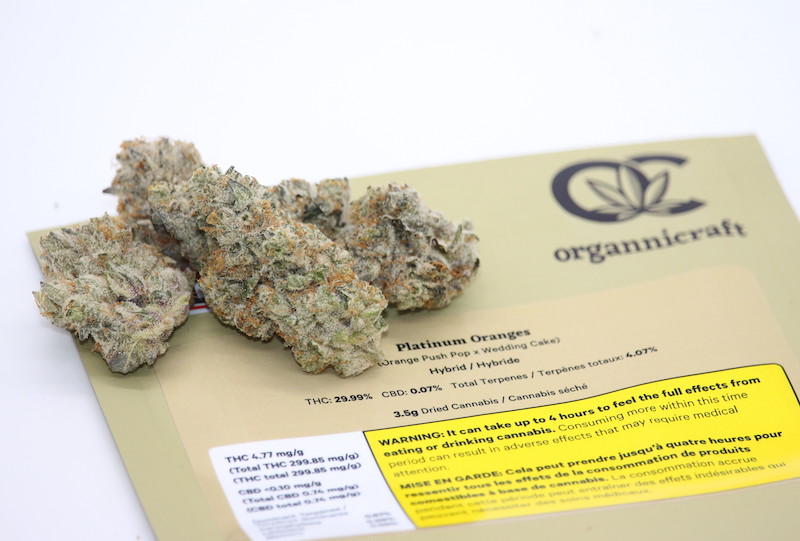 Platinum Oranges, grown by Organnicraft, is a worthy offering in a hit-and-miss flavour profile.
People either love or hate orange weed strains. Those who love them have generally tried a bunch of them; in order to stand out in the category, it has to be bursting with citrus from its immaculate buds.
Platinum Oranges lives up to both parts of its name—it is covered in frosty trichomes giving it a metallic hue, and it has a lovely natural orange smell.
A cross of Orange Push Pop and Wedding Cake, Organnicraft's Platinum Oranges is grown in Vernon.
Tearing the seal on the bag releases the citrusy bouquet; the flower is an impressive 4.07% terpenes (Caryophyllene, Limonene, and Myrcene).
There are a few nice sized buds, which are a little sticky and springy when squeezed. It weighs a little above 3.5 grams.
The orange smell becomes less subtle once it's out of the bag and into a jar.
Dry pulls give off sweet citrus. It's a nice smoke with a pleasant taste and not too much orange.
It burns a bit fast with salt and pepper ash. There's a gentle tickle—but it's not harsh.
It gives nice clouds in the dry-herb vape, and the first few hits have an orange, creamy flavour.
This is 29.99% THC.
Personally, I feel it quickly in my head, then the effect works down into the body. It's a functional high. Coming down makes me sleepy.
There is a wealth of information on the package for weed nerds, including the grower, harvest date, and packaging date.
Overall, I wouldn't say this is on par with Organnicraft's Platinum Grapes (one of my favourite cultivars), but it's worth trying if you're a fan of orange.
---
© Copyright 2023 Okanagan Z. | About the oz.
Report a Typo or Inaccuracy
We strive to avoid typos and inaccuracies. However, on occasion we make mistakes. We value your contributions and help in correcting them.