Reviews
Raspberry Milk Chocolate by Legend
Published on November 5, 2020 by David Wylie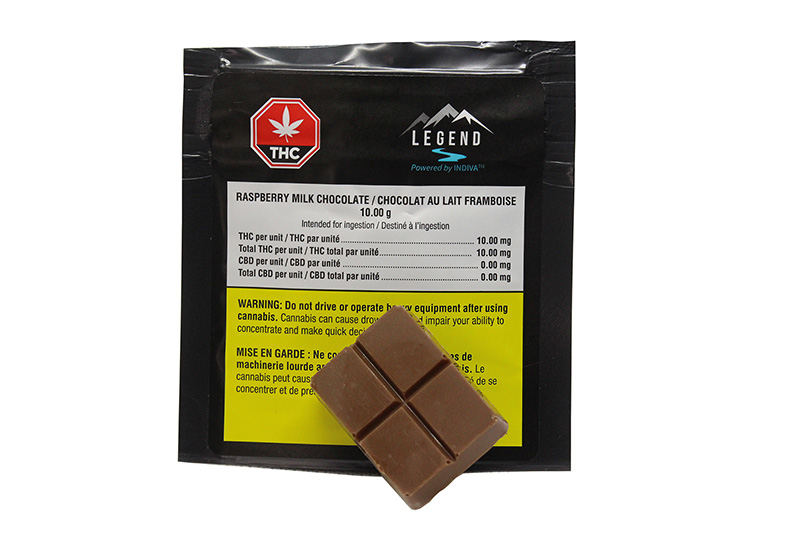 Legend Raspberry Milk Chocolate is worth savouring.
The rich raspberry smell is a delightful prelude to the satisfyingly sweet flavour. The fruity taste off the top melts into creaminess and a silky texture.
The 46% cocoa milk chocolate used by Legend in its raspberry treat comes from renowned master chocolatier Bernard Callebaut.
The bite-sized 10-gram bar of chocolate is infused with 10 mg of THC extracted from cannabis using CO2. There's no hint of cannabis taste.
It's scored into four pieces (2.5 mg of THC each).
Legend's offerings are some of the most affordable chocolates at $3.99. They also have orange and candy cane flavours, alongside the plain milk chocolate and dark chocolate (70% cocoa).
Legend is part of Indiva, which also makes the well-priced Bhang cholcolates.
Renowned chocolatier had bad fortune
A celebrated Calgary chocolate maker, Callebaut founded Chocolaterie Bernard Callebaut, which he grew to more than 30 locations before going bankrupt.
After his bad fortune, Callebaut started over and founded Master Chocolat.
The chocolatier was the first North American to be bestowed the honour of "l'Ordre Internationale de la Gastronomie Francaise", recognized by the French Government for outstanding contribution to the culinary arts.
---
© Copyright 2020 Okanagan Z. | About the oz.
Report a Typo or Inaccuracy
We strive to avoid typos and inaccuracies. However, on occasion we make mistakes. We value your contributions and help in correcting them.