Reviews
THC strips by Being
Published on February 25, 2021 by oz. staff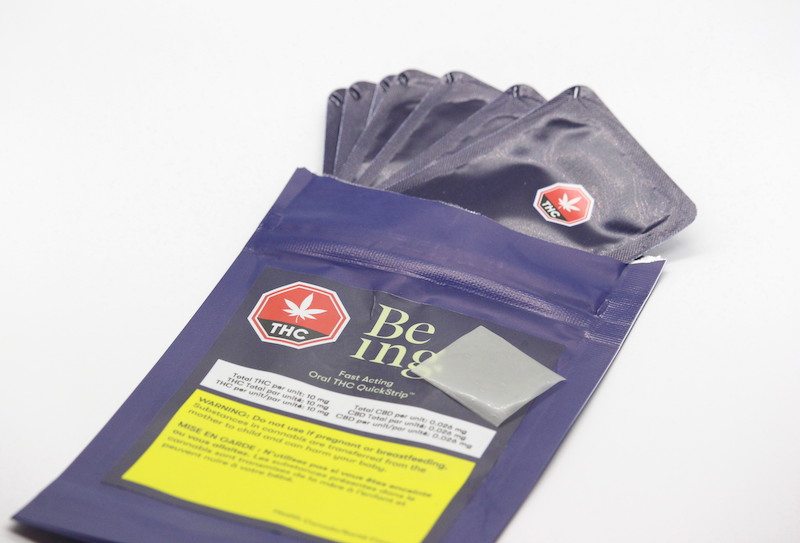 Do they get you high in five minutes like they promise?
We put Being's sublingual 10-mg THC strips to the test of time, and they do indeed take about five minutes for a gentle onset to begin.
There are 10 neatly individually packaged strips per pack.
Similar to using a Listerine breath strip it goes in your mouth—but you put this hard squarish film under your tongue or against your cheek. It feels reminiscent of a dental hygienist putting an X-ray in your mouth.
It melts slowly and feels gooey. It has a peppery mint taste that can trigger coughing as it dissolves.
The head-high subtly sets in within 5-10 minutes, and gains decent momentum from there.
These strips are discreet and smoke-free.
They aren't perfect; but they are worth a try.
They also come in 10 mg CBD.
Here's some of what Being says about the strips:
Being Fast Acting Oral THC QuickStrip is a smoke-free cannabis alternative that delivers more cannabinoids per equivalent dose, faster, than other non-combustible formats.
Being strips can easily be torn into smaller segments for micro-dosing.
Nut-free, and contain no animal products. Naturally flavoured with peppermint oil.
We documented the experience in Episode 6 of our podcast:
Jenny and David start off Episode 6 by using discreet and fast-acting 10-mg THC oral strips. We document the journey throughout the podcast from a touch of oral discomfort to craving M&Ms.
---
© Copyright 2021 Okanagan Z. | About the oz.
Report a Typo or Inaccuracy
We strive to avoid typos and inaccuracies. However, on occasion we make mistakes. We value your contributions and help in correcting them.