Features
The best cannabis accessories from Canadian brands
Published on June 25, 2021 by Simon Gerard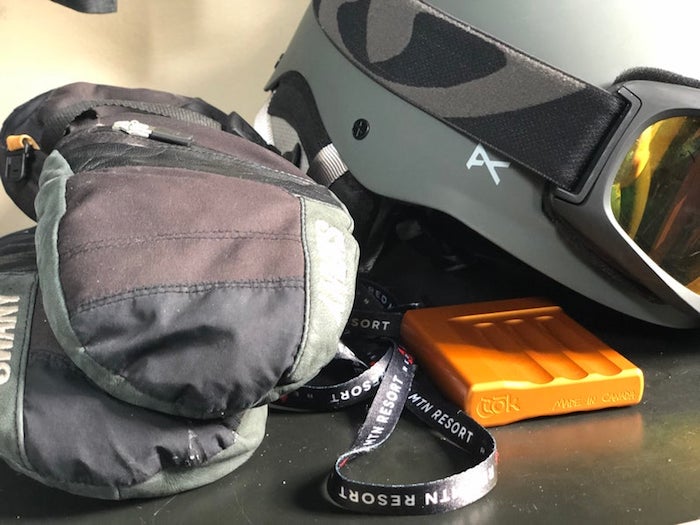 Take a few patriotic puffs from something designed by some of your fellow countryfolk. From handmade to high-tech, we rounded up some of our favourite cannabis accessories from Canadian brands.
The Lake & Bake – Waterproof, floatable rolling kit
Perfect for summer dreaming is the Lake & Bake, a new rolling kit from BC-based Dreamboats (which also makes amazing leisure-focused floatation devices you need to check out). The rolling kit comes with a stash box, grinder, rolling tray, and room for a BIC lighter. It's waterproof and floats, making it perfect for someone who likes to enjoy weed and water.
On Instagram @dreamboatsmfg
Hamburger Grinder – Another Room
Another Room is a fun brand from BC that has the perfect grinder for all the backyard BBQs you're planning. It's a three-piece 'hamburger' grinder with the bottom bun for catching kief… cheese is extra.
On Instagram @findanotherroom
The Tok Case – The Rolex of joint cases
A friend recently introduced me to the Tok Case, a made-in-BC joint case that I happily own. After tinkering for a couple of years with the concept, the creator, Jeff Herr, is finally rolling out production. Machined out of solid, lightweight aluminum, it's a gift built to last, with room for three joints and a BIC lighter. My favourite feature that isn't advertised is the satisfying clicks from constantly sliding the lid back and forth while procrastinating. It comes in several anodized colours. (Enter code 'theoz10off' for a discount!)
On Instagram @thetokcase
Ally – Stylish Storage
Launched earlier this year in Toronto by two moms, the Ally is an attractive, weed-friendly, multi-purpose storage container. Inside, it has a large compartment and a removable tray above. The tray can be used to store small items or for rolling. The combination lock keeps kids and anyone else you don't want to sample your stash. It's fridge and freezer safe, locks in scents and freshness, and it's phthalate and PVC free. This means you can stash away both flower and edibles with peace of mind.
On Instagram @the.allyco
The Hexagon – Canadian-made icon
If you follow the Canadian cannabis industry, you most likely recognize this bong from BRNT Designs. Made in Alberta, it's been showcased internationally in Forbes and most recently in Rolling Stone's Best Bongs for 2021. Besides its handsome appearance, the ceramic body also makes it freezer-safe, allowing for frosty hits on a sunny summer morning. 
On Instagram @brntdesigns
GCC Cob Pipe – Naturally Canadian
While you can easily find cob pipes for sale, they're often made with inferior materials and can include plastic and metal. This cob pipe is born and raised in Canada with a corn bowl and birch wood stem. While technically biodegradable, it will last years with regular cleaning. And the more time you spend together, the sweeter it gets, thanks to the slow release of corn resin. You can find it at Canadian online retailer The Green Cannabis Co. (GCC), which is a great shop for classy, eco-friendly session-ware.
On Instagram @thegccshop
VAPIUM Lite – Medical-grade, pocket-friendly vape
I've had this discreet, dry-herb vaporizer for a couple of years and I'm still a fan. Toronto-based VAPIUM launched with the Summit+, which got plenty of recognition for its quality and rugged design aimed at outdoor use. They followed up with the Lite, which has several key features I really value. The eight-level temp control uses plus/minus buttons, no annoying multiple clicks. It has haptic feedback with three different vibrations, letting you know specifically when it's turned on, turned off, and at the set temp. This allows you to know its status while it's in your hand without having to look at it, perfect for keeping it on the DL when out and about, if you have a vision impairment, or are hiding in a closet. It also has a medical-grade ceramic bowl, built-in stir stick/poker, and USB-C charging. 
On Instagram @vapiuminc
TOQi – Wireless 510 and wax vape
TOQi is a cutting-edge 510 cartridge vaporizer based out of Toronto. It features wireless and fast USB-C charging, which also makes it compatible with wireless phone chargers and vice-versa. It lights up in three different colours for each temp level. And thanks to a new wax cartridge attachment, it doubles as an ultra-light, portable wax pen.
On Instagram @mytoqi
Papes – French Canadian rolling papers
Ok, so Papes aren't French Canadian in the traditional sense. They're a Canadian brand that sources their organic paper from France. They tragically point out that there are no Canadian rolling paper mills. They offer cones and traditional papers made from either hemp or rice, with regular and king-size options. A nice sustainable touch is their cone packaging is compostable, unlike many that come with wasteful plastic packing sticks.
On Instagram @papescanada
Studio A-Ok – The perfect poker
Do you roll joints and end up packing it with something random that awkwardly fits the end of it? After using this tamper for a couple of years now, I say it's 100% worth the small investment for consistent joint packing. You can pick it up from Studio A-Ok online or at their store in Vancouver's Chinatown.
On Instagram @_studioaok
Concrete Cat – Artsy ashtrays
If you appreciate a solid piece of psychedelic art to ash your joints, then check out Montreal-based Concrete Cat. All handmade and one-of-a-kind, these concrete ashtrays are built to last and beautiful. They also offer a selection of unique housewares, including the trippiest, heaviest lazy susan you'll find this side of the multiverse.
On Instagram @concretecat
Laundry Day – Aesthetic Accoutrements
Founded in Victoria, B.C. by Victoria Ashley, Laundry Day's unique look has caught the eye of Forbes, Vogue, High Times, and more top publications. The collection is mainly comprised of coloured glass pipes with a vintage vibe that easily doubles as home decor pieces. The pipes are hand-blown, giving each piece a slightly different character.
On Instagram @laundryday.co
Hemson Goods – Everything they make

Ontario-based Hemson Goods oozes mid-century Mad Men vibes. Think what Don Draper would be packing in his briefcase after the vague hippy-themed series finale (spoiler alert?). My No. 1 recommendation is the heirloom-grade Hemson Grinder, crafted from hand-turned American walnut with a solid anodized aluminum core. Their top grain leather/cotton canvas dopp kit holds up to any luxury designer brand. It includes an odour-absorbing liner and lockable zipper, making it perfect to carry his straight razor and stash on his next cottage getaway. Make sure to check all their high-end pieces in their shop. 
On Instagram @hemsongoods
---
© Copyright 2021 Okanagan Z. | About the oz.
Report a Typo or Inaccuracy
We strive to avoid typos and inaccuracies. However, on occasion we make mistakes. We value your contributions and help in correcting them.