Features
MTL Cannabis goes public with reverse takeover
Published on August 13, 2021 by David Wylie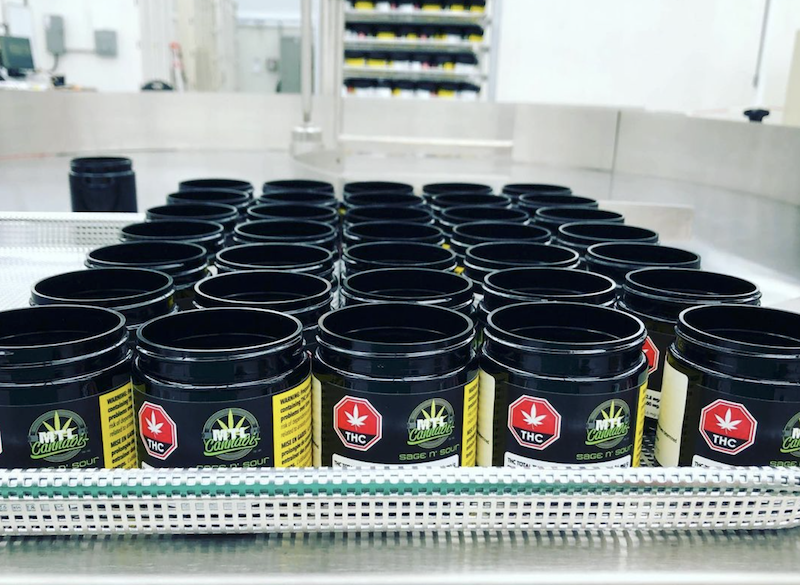 Known for Sage N' Sour, MTL Cannabis makes room for new cultivars
MTL Cannabis is in the midst of a reverse takeover of Canada House Wellness—a friendly deal that, if approved, will take the private company public and more than double its growing space.
More than 500,000 jars of MTL Cannabis' Sage N' Sour have been sold across Canada, earning the Montreal-based LP a reputation for consistency. The cultivar holds a spot in the Top 5 flower products in multiple provincial markets.
In an interview with the oz., MTL Cannabis President Mike Lubarsky says the move will mean an expanded portfolio.
"As much as we're growing here, we didn't have space to get to the next strain because our Sage N' Sour was in such high demand that we constantly had to fill those volumes," he says.
The two companies have already been working together for years.
Canada House buys product from MTL Cannabis for its Abba Medix patients, including those in their veteran program.
"This isn't a deal that just got put together last minute," says Canada House CEO Chris Churchill-Smith in an interview with the oz.
"This is three years in the making. It's a very carefully put together deal for all the right reasons and the right motivations. Our patients were falling in love with the Sage N' Sour cultivar."
Owned by brothers
A family operation, MTL Cannabis is owned by brothers Richard and Michel Clement, who have years of experience growing cannabis.
"The Clement brothers will become the majority ownership of this business," says Churchill-Smith. "Any product that goes into an MTL brand will be synonymous with the quality that consumers have experienced with Sage N' Sour."
The deal, if approved, means privately owned MTL Cannabis goes public on the Canadian Securities Exchange (CSE).
"It's definitely a different experience for us as we were privately owned. We still want to be true to who we are, to run things the way we run things. We want to make sure that we continue to grow the best product that's out there," says Lubarsky.
"By going public, it certainly allows us access to capital."
Along with voting this fall on the deal, shareholders will also vote on what the stock symbol will be—likely to contain the letters 'MTL' in the ticker.
New genetics
There is a significant genetic library across the three LPs—MTL, Abba Medix, and IsoCanMed.
Expect to see new genetics from MTL Cannabis within a year, including those with high terpene profiles and mid-20% THC levels… "which hopefully over time people will recognize is not the most important when deciding what cannabis you want to consume," says Churchill-Smith.
"Over the next 12 months you should be seeing at least four to six new genetics in the market."
Shifting sands
Churchill-Smith says companies have been following a strategy of spending large sums of money on hard assets. However, that's become unsustainable.
"We saw what happened with Aurora Sky. We saw what happened with the mothballing of facilities that had hundreds of millions of dollars invested in them," says Churchill-Smith. "As we go through time, we see how difficult it is to grow very high quality cannabis."
It's one thing to grow beautiful craft cannabis in a small facility, he says, and it's another to do it on a large scale.
"Trying to bring 30,000 kilos of unbelievably high quality product to the market, I would challenge anybody in the industry to be able to say that they could do that," he says. "This is what MTL has done on their own in their own facility."
Scaling up
That said, expanding MTL Cannabis' footprint by retrofitting existing Canada House assets is not the same, says Churchill-Smith.
"This is not throwing money to endear ourselves to the capital market. It is investing very carefully to increase production capacity because there is demand," he says.
"That's a big, big difference."
MTL Cannabis plans to more than double its current 57,000-sq.-ft. of space and yearly production capacity of 13,000 kilograms of high-quality dried flower, to 120,000 sq. ft. and 30,000 kilograms.
"In a market where close to 500 tonnes of unsaleable cannabis was destroyed across Canada, MTL has proven that properly priced high-quality product sells through and thrives in the legal market." Canada House CEO Chris Churchill-Smith.
The company also has further expansion capabilities, with an 58,000 sq. ft. of cultivation and production space through a second building situated at MTL's Pointe-Claire location.
After closing the deal, the company will hold cultivation, processing, and sales licences for plants, seeds, flower, oil, concentrate, topical and edible products. It will have existing supply agreements with nine Canadian provinces, including British Columbia, Alberta, Ontario, and Quebec.
—
Want to read more about MTL Cannabis? They are the cover story of Issue 4 of the oz. magazine.
---
© Copyright 2021 Okanagan Z. | About the oz.
Report a Typo or Inaccuracy
We strive to avoid typos and inaccuracies. However, on occasion we make mistakes. We value your contributions and help in correcting them.