Features
'I love smoking weed, and lots of it'
Published on June 4, 2021 by David Wylie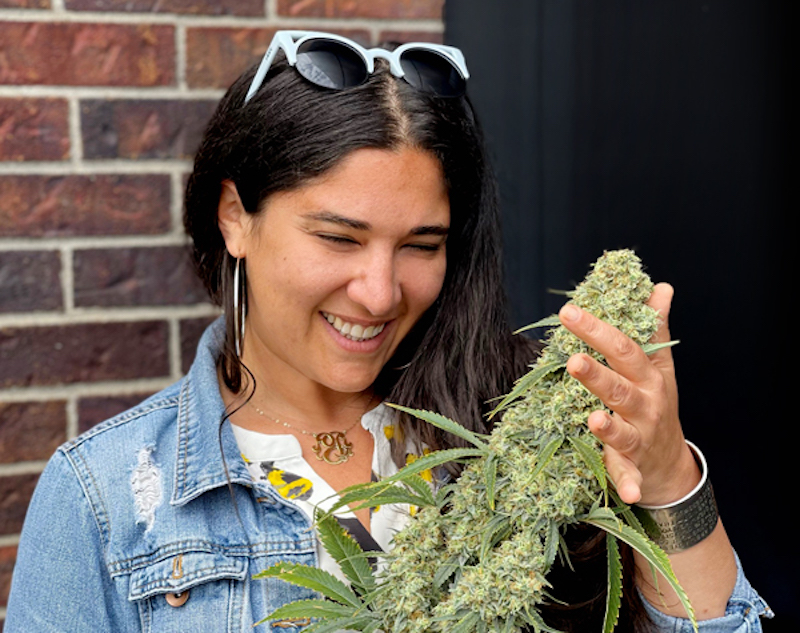 Jenn Larry has never been shy about her cannabis use.
Since her first puff as a young teenager, she knew weed was something special. Decades later, Larry is the Chief Commercial Officer (CCO) at Montreal-based MTL Cannabis.
"It's important now that we're normalizing, we're reducing the stigma, and we're affording people an opportunity to lean in to what legalized cannabis is supposed to mean: to not be afraid to say, 'I love smoking weed, and lots of it,'" she tells the oz.
So far, MTL has built its reputation on a single strain. Hundreds of thousands of jars of Sage N' Sour have been sold throughout Canada. The high-THC, Sativa-dominant Sage N' Sour is unique in its high CBG percentage.
"We are amazed that we get to be on so many shelves," says Larry.
Ironically, MTL is not available in Quebec (just yet), but Larry says the hand-trimmed flower represents Montreal's rich cannabis history.
"I know people call it a half-quarter or a 3.5, but we're from MTL; it's still an eighth in our town." — Jenn Larry
"We have so much of our own nomenclature, we have so many of our own genetics, so many of our own stories; and while we may not be as advanced as maybe the BC market is in some of the outdoor grows, we certainly have a craftmanship that exists in Montreal," she says.
"We grow in small rooms, it's our homage to our own backyard."
Cannabis has a record store vibe
Larry has used her experience in the music industry, as well as regulated spaces like tobacco and gambling, to guide her in cannabis.
She even compares budtenders to record store clerks.
"The budtenders are becoming almost like that person at the record shop, who just knew so much. You'd go in for an afternoon and chat with them just because you had this shared passion for something that spoke to you both on totally different levels but was still a connective piece," she says.
"Being with MTL Cannabis and having our chance to put out our 'song,' which is Sage N' Sour, it's been really cool to see how many people are connecting with that."
A growing cannabis company
MTL is continually looking to how they can "own more of the process," says Larry.
They recently made the move to packaging in-house. That's led to significant job creation. When Larry started at MTL earlier this year, there were 40 employees. That has quickly grown to about 100 people.
"When you function as a cultivation company, then you really mature into a manufacturing company, it really shows you how many more people you need to get the job done," she says.
In a feature interview with the oz., Larry talks about: whether MTL is short for Montreal; her own history of working in 'vice' industries; and why  she's cool with being the poster child for smoking pot. Read the Q&A.
---
© Copyright 2021 Okanagan Z. | About the oz.
Report a Typo or Inaccuracy
We strive to avoid typos and inaccuracies. However, on occasion we make mistakes. We value your contributions and help in correcting them.