News
Sour Sis, top vape carts, and some sips
Published on November 19, 2021 by oz. staff
The Higher Path in Armstrong was one of the lucky cannabis stores in the Interior to get their order practically on time this week.
Nicole Sullivan, a budtender at The Higher Path in Armstrong, says they were excited to get Sour Sis (Peyote Wifi) from Flowr Underground Series.
Here's some of the official description:
"The Underground Series is built around the philosophy of helping micro cultivators and small craft producers get into the market. Sour Sis is a heavy cross between Peyote Purple x Wifi OG. Peyote Purple comes from the Bubba Kush lineage and is a specifically selected phenotype, while the Wifi OG is the now famous The White x Fire OG.
"Leaning heavy on the Indica side, this one is clocking in at 28.5% THC with yet unknown terp percentages. It has a lovely deep gassy smell and meaty dominant terpenes with sweet undertones. It tastes savoury, almost piney with a strange meatiness. When you exhale the sweet terpenes savoury our mouth, leaving you licking your lips. it is a very desirable strain and very enjoyable in both taste  effects."
Sullivan says she has been enjoying a number of vape carts. Her top three are:
Mango Mercy from Daize
Guava Chemdawg Live Resin from General Admission
Berry Lemonade from Glacial Gold
As for drinks, Sullivan says the Verse Rapid Tropical Rush is a good option as a 1:1 that's not super sweet. She also says the Indie Pals from Bedfellows is a good IPA-style drink and it's not overly hoppy.
Here's a photo tour of the inside of The Higher Path in Armstrong.
*Updated Nov. 20 to correct Sour Sis info.
---
Advertisement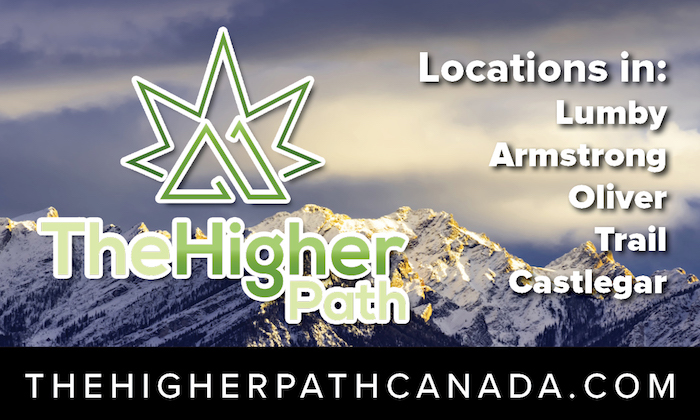 ---
© Copyright 2021 Okanagan Z. | About the oz.
Report a Typo or Inaccuracy
We strive to avoid typos and inaccuracies. However, on occasion we make mistakes. We value your contributions and help in correcting them.