News
We can't go to the moon (yet), but still lots to try
Published on November 5, 2021 by David Wylie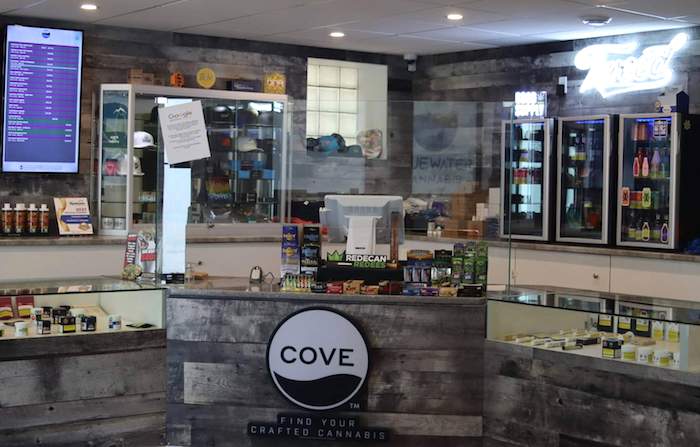 Bluewater Cannabis partner Ryan Graham says some of his customers want to go to the moon—but they can't just yet.
"People want moon rocks," he tells the oz.
"I know there are a few LPs trying to get them listed through the province."
For the uninitiated, Moon Rocks are cannabis buds that are dipped in extracts and then rolled and covered in kief.
Graham says there are all kinds of other products you can get that are resonating with those who come through Bluewater's doors in Penticton and Oliver.
"This week people are loving Pineapple Party from Pineapple Buds," he says.
Eighths of Choice Growers' Pink Wedding Cake Cookies at 24% THC are proving popular for the $18.95 price tag.
"That's a real good deal for an eighth," he says.
Other popular flower choices include:
Kootenays Finest White Chocolate Diamonds Hybrid Organic (3.5 grams)
Aaron's BCBUD Island MKUltra (3.5 grams)
Greybeard Afghani Drifter (7 grams)
Oakum's Green Crack God (3.5 grams, pre-shredded)
In the carts category, Glacial Gold's Anytime 1:1 Vape is a notable offering.
"The cart game was absolutely changed with the introduction of Glacial Gold out of Vancouver," says Graham. "Great technology. Super consistent. Really tasty. Great price point. They're the first true 1:1, 420-mg THC, 420-mg CBD cart. We brought those in about a month ago and week after week they skyrocketed to No. 1."
As for edibles and beverage, Edison Jolts are selling well. They're lozenges that come in packs of 10 and each one is 10mg THC. At $18.95, they break down to $2 per 10mg THC.
Graham says Keef's Orange Kush is one of his favourites.
"It tastes just like you're sitting on the beach as a young kid on a summer's day drinking an Orange Crush," he says.
For those who are using CBD every day, Dosecann's CBD capsules are 50 mg per capsule, a high dose at an affordable price, he says.
---
© Copyright 2021 Okanagan Z. | About the oz.
Report a Typo or Inaccuracy
We strive to avoid typos and inaccuracies. However, on occasion we make mistakes. We value your contributions and help in correcting them.