Reviews
BC Organic Blue Dream by Simply Bare
Published on April 30, 2020 by Curtis Woodcock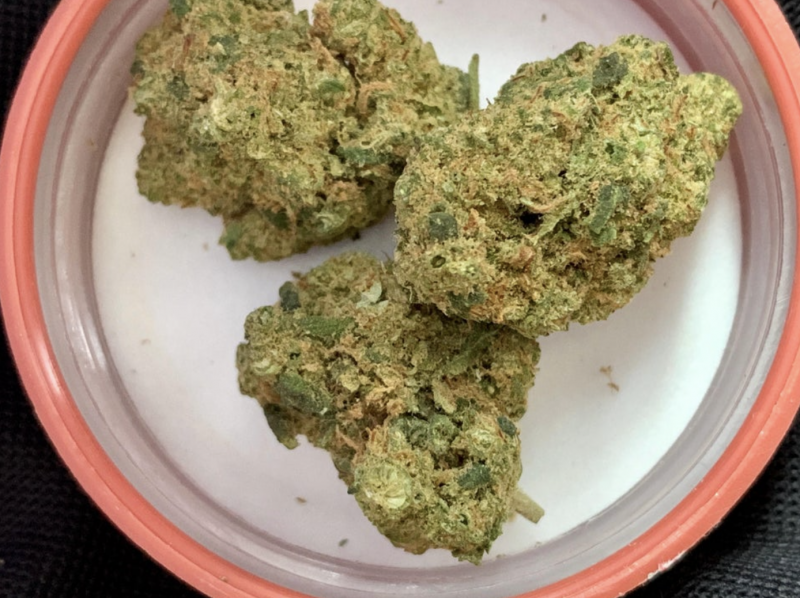 This amazing, stellar, and otherworldly British Columbia grown sativa-dominant hybrid is a must try. It comes with a premium price tag, but it is well worth it.
From the very beginning of the experience it feels like a luxurious journey unfolding before your eyes. The container was placed delicately in my hands and immediately it was understood why this product deserved its reputation. The packaging is sleek, minimal, and made of recyclable glass. This in and of itself sets it apart from the others; spin the lid and gently peel the seal away. No this is not heaven, but it is the closest thing to it.
The delicate and intricate blueberry sweet scent notes flow like a melody of delight through your nasal canals and rock every sensation in your brain. Personally I get hints of citrus amongst the tantalizing blueberry notes.
I had the pleasure of being able to smoke this flower through a brand new water bubbler. Let it be known that it tastes almost as sweet and pungently delicate as it smells. That may sound counterintuitive, but trust that once you try it through this method, understanding will shower over your body. Through this method the uplifting, euphoric, tingly, and freeing sensation washes over you and lasts for at least a couple hours at a wonderfully constant strength.
It's strong but delicate enough to still get things done, and enjoy what you are setting your mind to. It's relaxing, calming, euphoric, and cerebral. This article has even been written with the aid of a little Simply Bare Blue Dream. The glorious thing about this dream is you get to choose when you wake up!
Essential details
This sativa-dominant strain is 100% certified organic. The exceptionally aromatic flower gives off a blueberry aroma with a warm and peppery terpene profile. Hand-harvested and cold cured, these buds were carefully selected, trimmed and placed in a recyclable glass jar, sealed for freshness. Like any good dream strain, it is both spicy and sweet.
The goods
THC: 22.0%
CBD: <0.1%
Terpene profile: Myrcene, Caryophyllene, Ocimene, Humulene
Terpenes: 3.5%
Lineage
A sativa-dominant hybrid originating in California. Crossing Blueberry with Haze.
Curtis Woodcock is a photographer, writer, and musician living in Kelowna, B.C. Cannabis has become a topic of interest and something that has been beneficial in his life. You can find him here or on Instagram @curtis.woodcock.
(Main photo credit to Reddit user araneus777 )
---
© Copyright 2020 Okanagan Z. | About the oz.
Report a Typo or Inaccuracy
We strive to avoid typos and inaccuracies. However, on occasion we make mistakes. We value your contributions and help in correcting them.