Reviews
Drinks by Green Monké
Published on September 22, 2023 by David Wylie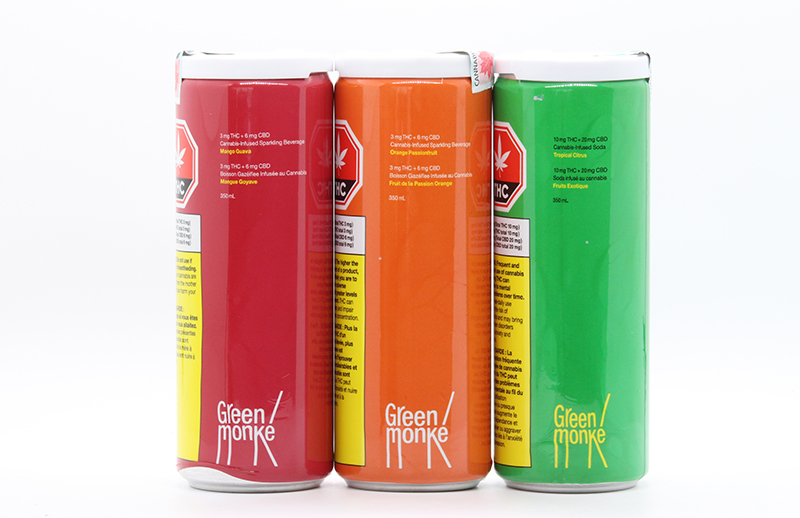 I concede that I use the F-word about a lot of cannabis drinks. With that in mind, these are just 'fine.' Green Monké's selection of beverages are basic and average. There's some good and some bad.
Good: fast onset, the effect punches up, and the flavours are fun
Bad: artificial sweetener is nasty, and two are low on the THC spectrum
I cannot wait for the day when cannabis drinks are priced correctly and consistently deliver on flavour and effect. That will be the day they rule the market, but for now they are last in sales across all categories.
Here are three flavours of Green Monké drinks in order of how we liked them, from best to worst:
Tropical Citrus by Green Monké
(10mg THC, 20 mg CBD)
Tropical Citrus was the best of the three cannabis beverages—but only because it has more punch with the higher amounts of THC and CBD. The drink has a light green colour, with a surprising pineapple taste that caught me off-guard. The green colour of the drink and the can led me to expect lime. It has a bright flavour and is the most balanced of the three.
Orange Passionfruit by Green Monké
(3mg THC, 6 mg CBD)
Orange Passionfruit is a watered-down Orange Crush. But it was still my favourite flavour. It smells like orange pop and has a gentle orange hue. You catch the bitterness from these drinks on the back end because it fails to fully mask the CBD taste.
Mango Guava by Green Monké
(3mg THC, 6 mg CBD)
Mango Guava is worst of the three. It really suffers most deeply from the faults of this cannabis beverage. It has a nice peachy colour (though a little cloudy which is the first sign you're going to taste the bitterness of the infusion). Like all three drinks, the carbonation is good. The sweet mango taste is really made off-putting because of the artificial sweetener.
Overall, I would buy Tropical Citrus (and maybe Orange Passionfruit) again. Cannabis drinks still have a ways to go, but they are making progress.
---
© Copyright 2023 Okanagan Z. | About the oz.
Report a Typo or Inaccuracy
We strive to avoid typos and inaccuracies. However, on occasion we make mistakes. We value your contributions and help in correcting them.