Reviews
Gummies by Mr. Chews
Published on November 11, 2022 by David Wylie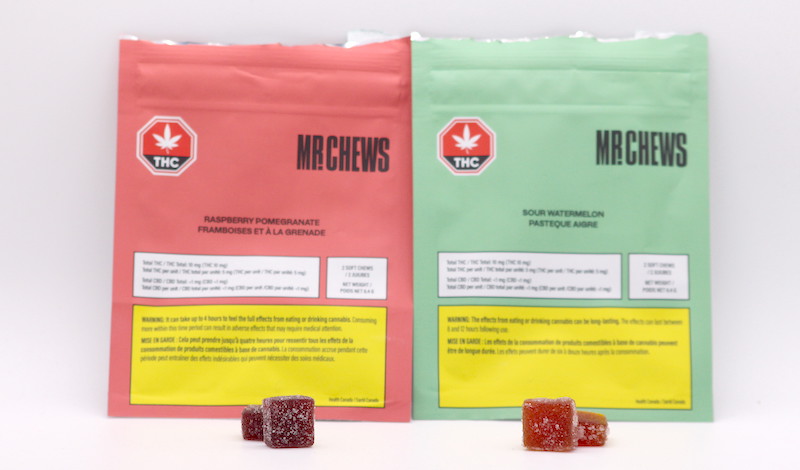 Mr. Chews gummies are not good. They would be forgivable if the price point was lower, but at over $7 with tax at the local Dutch Love, these are overpriced and worse than budget-priced competitors.
We tried the raspberry pomegranate and the sour watermelon flavoured soft chews.
The raspberry pomegranate tasted better but had a really sticky, taffy consistency that could rip the fillings right out of your teeth.
They weren't even shaped consistently—or quite the same size—which raised a question of dosing, as we were splitting the package between two of us.
Meanwhile, the sour watermelon gummies were at (the very) least closer to the same size. They weren't as sticky. They also didn't really taste like watermelon.
Overall, the raspberry pomegranate gummies were preferable.
They are both 10mg THC.
The Valens Company has been going through a rough patch. Every time I get a product manufactured by the Kelowna-based company I feel hopeful, then end up disappointed. This time is no different.
This one gets a pass.
—
Updated on Nov. 17: Some story restructuring, change to link
---
© Copyright 2022 Okanagan Z. | About the oz.
Report a Typo or Inaccuracy
We strive to avoid typos and inaccuracies. However, on occasion we make mistakes. We value your contributions and help in correcting them.