Reviews
Live Rosin Gummies by 1964
Published on November 3, 2023 by David Wylie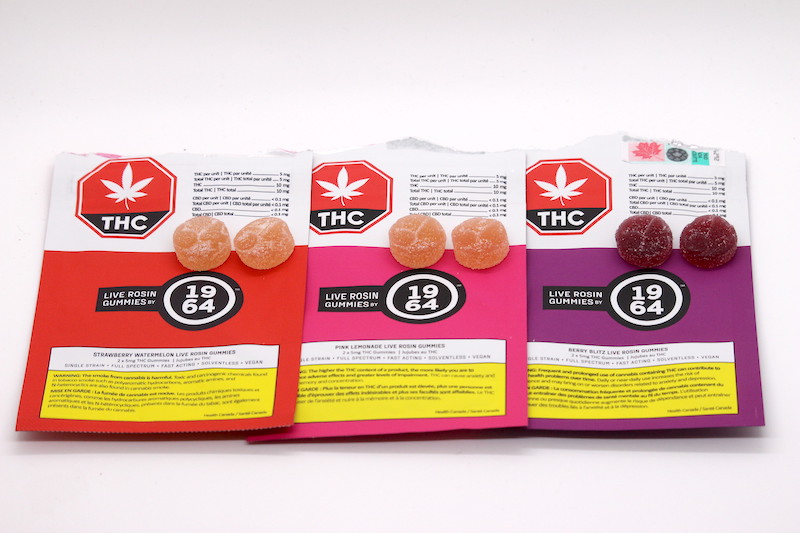 The full-spectrum effect and clever flavour pairings makes Live Rosin Gummies by 1964 unique.
We tried three flavours from 1964's foray into edibles. All are single strain and full spectrum, and they don't shy away from cannabis taste. Instead, 1964 leans into the weedy tang from the organic live rosin by linking the flavour to the cultivar and lineage, listed on the label.
Berry Blitz (PJP #8) has the least flavour and the most noticeable bitter cannabis distillate taste.
Strawberry Watermelon (Strawberry Cough), tastes more like strawberry rhubarb, and is pretty yummy.
Pink Lemonade (Pink Kush) is the tastiest of the bunch with the least amount of bitterness.
The vegan gummies are all smartly branded with an embossed '64.' They are coated with sugar and are an easy chew that melts in your mouth.
While the package says they're fast acting, these do take some time to really hit.
All packages have a total of 10mg THC, divided among two 5mg gummies.
Overall, 1964's gummies are more bitter tasting than some of the other brands that mask the flavour better. That said, the texture and effect are nice, but you'll have to decide yourself if you want to pay $7 per bag.
These are by Rubicon, more predominantly known for their premium dried flower released under Simply Bare, as well as their ounces through the Homestead brand.
---
© Copyright 2023 Okanagan Z. | About the oz.
Report a Typo or Inaccuracy
We strive to avoid typos and inaccuracies. However, on occasion we make mistakes. We value your contributions and help in correcting them.