Reviews
Purple G*shers by Pineapple Buds
Published on September 29, 2023 by Jenny Neufeld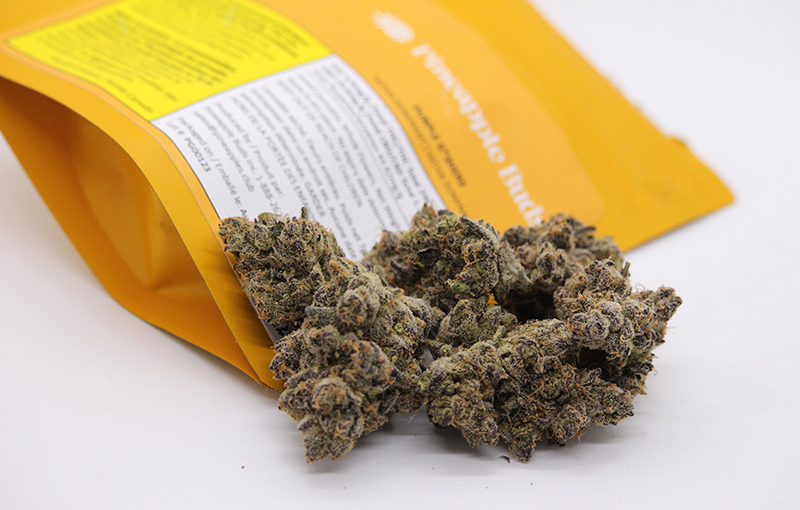 This twist on a classic Pineapple Buds strain does not disappoint.
It crosses Hawaiian Pineapple with Tiki Madmen's Gushers.
Right from the start you get juicy purple smells that are reflected in the light shades of the colour on the flower. The hand-trimmed buds are gorgeous and roll up well.
The Sativa dominant dried flower burns slow and allows you to savour the taste.
The smoke is smooth and it burns with light grey ash.
While it isn't as tropical as their other strains, there is still the sweet and fruity undertone that you expect from Pineapple Buds.
The effect doesn't necessarily hit right away, it takes time to build to its fullest expression. With the main terpenes of Caryophyllene, Humulene, and Limonene you are set up for a chill, zenned out kind of high but without feeling too sleepy because of the Sativa effect.
This was freshly packed on Aug. 20. It has nearly 30% THC.
Pineapple Buds has been packaged under BC Black, but this one has been released under their own packaging and label.
---
© Copyright 2023 Okanagan Z. | About the oz.
Report a Typo or Inaccuracy
We strive to avoid typos and inaccuracies. However, on occasion we make mistakes. We value your contributions and help in correcting them.