Reviews
Sourz by Spinach
Published on October 14, 2021 by Jenny Neufeld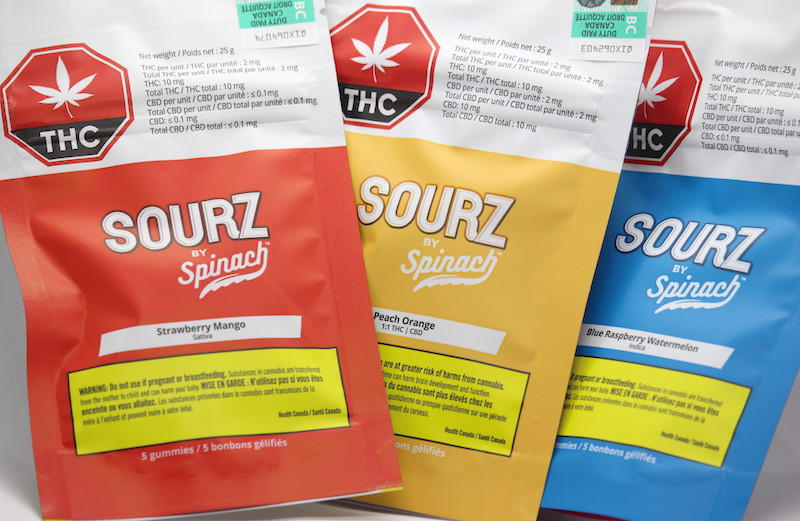 The Sourz gummies from Spinach might more accurately be named Sweetz.
The packaging is bright and fun, with the subtle use of a second colour at the bottom and back. This alludes to the double-fruit flavour of the edibles inside. The logo is huge, matched by the size of the THC label—as per Health Canada regulations—which sets it apart from a lot of standard branding.
Each package has a total of 10mg of THC and 16g of sugar in five dual-coloured gummies, which are shaped like the Spinach 'S'. These delightful sugary treats melt in your mouth and come in three flavours: Blue Raspberry Watermelon, Strawberry Mango, and Peach Mango.
Blue raspberry watermelon
Subtle sweetness
Balanced raspberry and watermelon flavour
Indica
Strawberry mango
More tart than expected
Strawberry comes through clearly, not much mango
Sativa
Peach orange
Quite sweet
Orange is more forward with a blush of peach
1:1 – 10mg of CBD in addition to the THC
They cost about $6 a package.
---
© Copyright 2021 Okanagan Z. | About the oz.
Report a Typo or Inaccuracy
We strive to avoid typos and inaccuracies. However, on occasion we make mistakes. We value your contributions and help in correcting them.