Reviews
BlueBerry OG Indica by PAX Era
Published on October 27, 2023 by David Wylie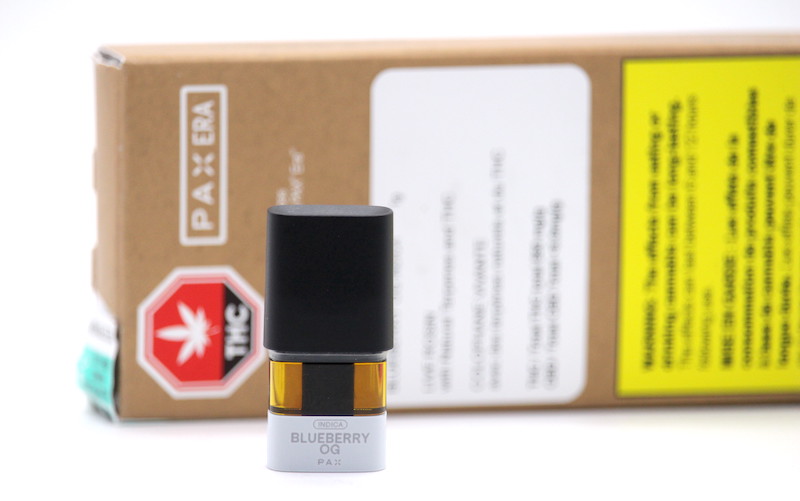 Vape carts are not my favourite way of consuming.
They're the watered-down, light-beer version of cannabis products (with some exceptions).
I was hoping that PAX's BlueBerry OG Indica live rosin pod would blow my mind. While it didn't go that far, it was a cut above some of the other experiences I've had.
The one-gram pod is compatible with PAX Era devices, which haven't had nearly the variety of carts as the ubiquitous 510-thread ones.
Final Bell, which has a location in Ontario, is the company producing PAX-branded pods in Canada.
The oil inside is a beautiful honey colour.
It initially tastes like blueberry syrup then melds into a more natural cannabis taste.
The effect is light and mellow, with quick onset and offset.
Personally, I often use cannabis vapes after eating an edible to fill the gap and kickstart the effect. Getting high off vapes alone doesn't do it for me.
If you're hitting this a lot, expect a dry mouth.
The oil is made from a cross of DJ Short's Blueberry x OG Kush. It's fresh frozen and extracted without harsh chemical solvents.
Terpenes are Carene, Caryophyllene, Myrcene, Ocimene, Phellandrene.
It's about 85% THC.
---
© Copyright 2023 Okanagan Z. | About the oz.
Report a Typo or Inaccuracy
We strive to avoid typos and inaccuracies. However, on occasion we make mistakes. We value your contributions and help in correcting them.