Reviews
Juicy Jet Pack by BZAM
Published on August 4, 2023 by Jenny Neufeld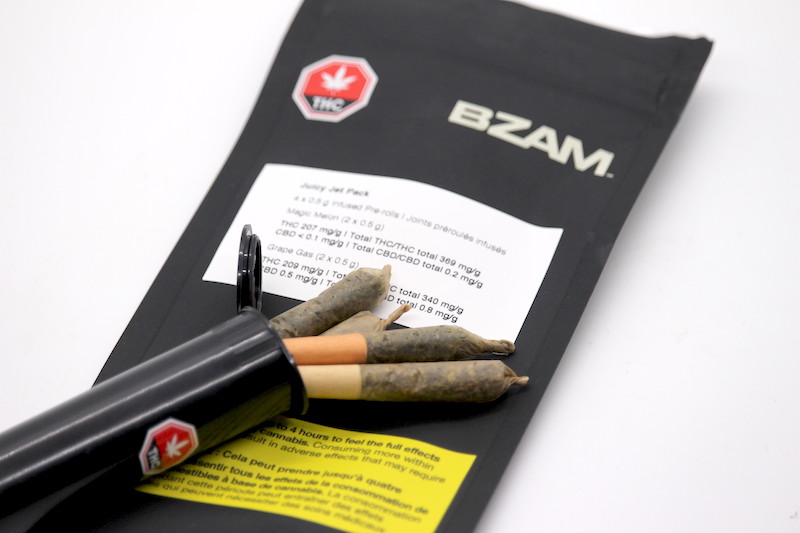 The Juicy Jet Pack by BZAM will send you to space unlike anything else on the market.
You get four infused pre-rolls in a doob-tube, two Magic Melon and two Grape Gas. They are indicated by different coloured filters and contain milled cannabis, THC distillate, and terpenes.
The smell that hits you is very fruity, almost unnaturally so, as soon as you open the package, and that's just the beginning of the wild ride. The scent translates into fruity flavoured smoke that, while delicious, also sits heavy in the lungs. We didn't find a big difference in taste between the two.
The pre-rolls aren't very big but they really pack a punch, at almost 37% THC for the melon and 34% for the grape. Two of us shared one and it was a struggle to finish because we were already high after the first few pulls and the coughing it caused became difficult to manage.
These are certainly the strongest joints we've tried, but not sure that it's a repeat buy.
---
© Copyright 2023 Okanagan Z. | About the oz.
Report a Typo or Inaccuracy
We strive to avoid typos and inaccuracies. However, on occasion we make mistakes. We value your contributions and help in correcting them.