Reviews
Raspberry Ice by BC OZ
Published on October 13, 2023 by David Wylie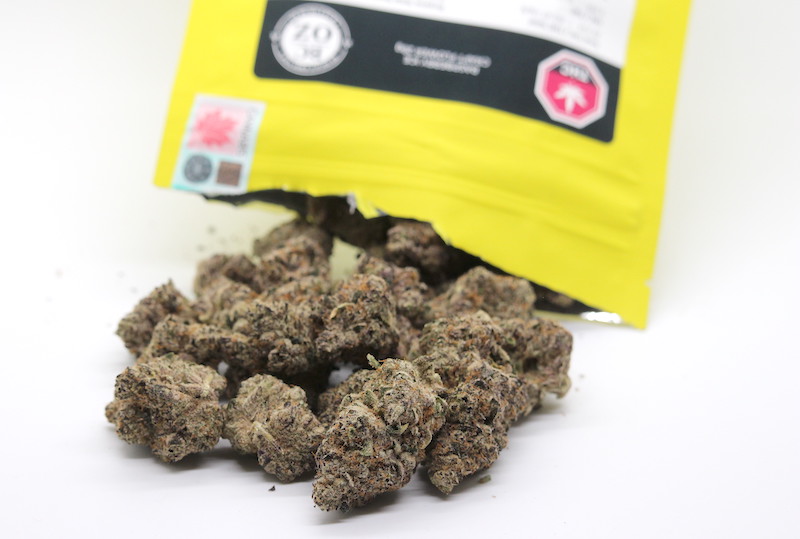 Joint Venture Craft Cannabis continues to pleasantly surprise with their limited drop BC OZ offerings.
I managed to find a freshly packed bag of Raspberry Ice at a local retailer and it's become my go-to lately.
As soon as you rip open the 28-gram bag, the fruity gas smell starts to fill the room.
The frosty buds are a nice size, well-trimmed, and squishy.
It's a cross between Raspberry Kush and Ice Cream Cake with purple hues and deep orange pistils.
The buds have nice snap when you break them apart and they give good resistance in the grinder.
A dry pull hits with lots of flavour and foreshadows the potency, which is labelled as 29.15% THC. It's Indica-dominant. Total terpenes are 2.02%, with Trans-Caryophyllene, Beta-Myrcene, and (R)-(+)-Limonene.
Raspberry Ice burns with light grey ash. It tickles the throat a little at the start, but smooths out.
The effect hits hard and can induce some strong munchies and a nice nap.
This was packaged in mid-September, just a few weeks before I bought it for about $130.
Buying an ounce can sometimes feel like a gamble because once you get it, you're smoking it for a while, but this budget-friendly BC OZ is a good bet. It's available in BC and Manitoba.
We've also reviewed Tropical Truffle by BC OZ.
---
© Copyright 2023 Okanagan Z. | About the oz.
Report a Typo or Inaccuracy
We strive to avoid typos and inaccuracies. However, on occasion we make mistakes. We value your contributions and help in correcting them.