News
Pistol and Paris wins tight race for ARCannabis Cup
Published on April 22, 2022 by David Wylie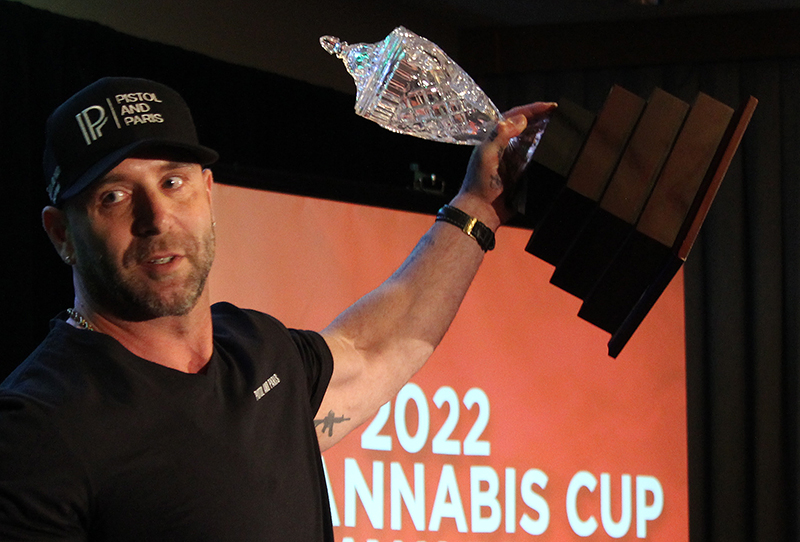 More than 100 different types of flower went head to head in a bracket-style competition for the ARCannabis Cup.
After 40,000 total votes were cast over several weeks, Pistol and Paris came out on top in a close final round against Cake and Caviar.
The winner was announced Thursday night at the BC Cannabis Summit in a packed event.
"I'm blown away. It's super surreal," says Pistol and Paris founder and CEO Dylan King.
King told the oz. in an interview that he's proud of what Pistol and Paris has been able to accomplish after being in the market for only 13 months.
• RELATED: Our review of Orange Tingz by Pistol and Paris
The 'legacy to legal' brand doesn't shy away from BC's cannabis legacy, with images of its helicopter and hockey bags. They sell weed under their label that's grown by micro cultivators, including JBuds, Verte West, Tri-City Smoke, and Westoast Organics.
"Anybody that wants to transition over to this side, or try to become one of the best brands, if you've got the passion, the drive, and vision of what you want to do—and put in the hard work—anything is possible," says King.
This is the second competition held by ARCannabis Store, which has four BC locations and another four coming soon. The inaugural competition was won by BLK MKT. Avant Brands CEO Norton Singhavon was on hand to pass the torch.
ARCannabis posts each match-up on its Instagram story, and customers and supporters have 24 hours to vote.
"Last year we had about 20,000 votes, and this year it doubled up easily to 40,000 votes," ARCannabis CEO Aaron Sinnathamby told the oz. "Our whole purpose in doing this was to bring the community together, to have some fun."
Sinnathamby says he and operations manager Matt Chernoff spend most of their time focused on operations and building stores. The competition is a break from all that, he says.
"We started a tradition. Everyone loves what we're doing. It's only going to get bigger and better," he says.
---
© Copyright 2022 Okanagan Z. | About the oz.
Report a Typo or Inaccuracy
We strive to avoid typos and inaccuracies. However, on occasion we make mistakes. We value your contributions and help in correcting them.